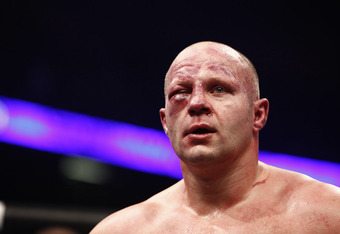 'Nuff said.
Being a judge for Strikeforce events must be the easiest gig in town. You can say what you will about their matchmaking, but—Challengers series aside—their last 13 consecutive televised fights have ended without tallying up the scorecards. Strikeforce has been steadily building its reputation as a promotion that puts on exciting fights, if not always competitive ones. And while the general public will gravitate toward the action, exciting fights are something that any promotion can deliver on any given night. That's why last night's event was about so much more to Strikeforce. It was about bringing back the energy and momentum of the tournament format. It was about distancing themselves from the pack and making a name for themselves as the promotion that takes risks and carves their own path. So, did the gamble pay off?  Let's break it down.
First off, kudos to Strikeforce for simply making it this far. There has been no shortage of know-it-all bloggers telling them why this is a bad idea and how it will blow up in their face.  Fully aware of the challenges and risks they faced, they made the bold decision to move forward. Sure, we're only one event into this thing, so it's a bit early to start celebrating, but so far they've avoided some of the more dramatic pitfalls lurking in the shadows. From a purely competitive standpoint, last night's event went off without a hitch. The better fighters of the evening won in emphatic fashion and seem to have emerged without any major injuries that would delay their next fights. You won't find any articles about tournament troubles or controversy this morning. Instead, the whole MMA world is buzzing about Kharitonov's vicious KO of Arlovski and Silva's absolute upset over the heavily-favored Emelianenko, and that's a great thing for Scott Coker.
That being said, there's a big distinction between the competitive side of this tournament and the promotional side, and from a marketing perspective Fedor was not the only recipient of a black eye last night. Alongside Gina Carano, Fedor has long been the most heavily promoted fighter on the Strikeforce roster. Heavyweight Champion Alistair Overeem fought Brett Rogers at "Strikeforce: Heavy Artillery"; non-champ Fedor fought Rogers at "Stikeforce: Fedor vs. Rogers". See the difference? Up until his defeat at the hands of Werdum, Fedor was marketed as the undefeated juggernaut- the man, myth, the legend. Even after that loss, much of the hype around this event was centered on his shot at redemption and tournament glory. Even with Strikeforce champion Overeem's participation in the tournament, it was Fedor who got top billing and the loudest reaction from the crowd during last night's fighter introductions. Losing Fedor at the earliest possible point in the tournament means saying goodbye to a sure-fire promotional campaign as the Grand Prix progresses.
Perhaps even better known to the general public is former UFC Heavyweight Champion Andrei Arlovski. Unlike Fedor, who needed a formal introduction to the American public upon his arrival in Strikeforce, the Pit Bull entered the organization as an already well-known commodity following his lengthy run in the Octagon. Despite being on a downhill slide leading into last night's bout, he was greeted with a huge ovation from the fans at the IZOD Center. While he may not have been a bookmaker's favorite to take the tournament, he is certainly a fan-favorite of the casual MMA audience. Losing a big name in the lineup could mean losing the attention of viewers who are more apt to tune in if they see a familiar face in the cage.
The beauty of the tournament format is that anything can happen and you never know who will advance, but that's a double-edged sword for a promotion which up until now has relied heavily on only a couple of marquee fighters to carry the promotional banner. With Arlovski and Fedor out of the tournament, Strikeforce will be forced to build up new stars and further drive interest in the tournament format itself. Coker has expressed interest in continuing the Grand Prix down through the lower weight classes; as those divisions are strapped for big-name fighters, Strikeforce would be well served to follow in Bellator's footsteps and let the intrigue and hype of the tournament format shoulder some the promotional duties from here on.
- Chris Colemon