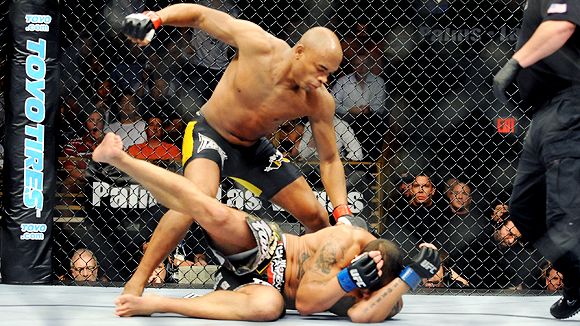 (Ah, the good ol' days. Photo courtesy of ESPN.)
In the last nine months, Anderson Silva has given us two title defenses marked by maddening stretches of inactivity, and fans have responded by giving him heaps of abuse. And the fact that he's no longer considered the UFC's thrilling golden boy who can do no wrong seems to have changed Silva in a fundamental way. Gone is the cheerful, lovable Spider, and in his place is a dude who has had it up here with the bullshit. Two examples, from recent interviews:
On the fans who booed during his recent fights: "At the end of the day, yeah, I'm there for the fans, but I'm the one who's putting my body and my life in danger every time I step inside the Octagon. So, a lot of times when people aren't as educated in this sport, it's really hard for them to understand. I feel I went in there and did my job, and if people are booing, it's from a lack of understanding of the sport, because I went out there and executed a good game plan, it was just unfortunate that my opponents didn't fight back."


On the UFC 104 title fight between Lyoto Machida and Mauricio Rua: "I'm not saying Shogun is not prepared but how long did Lyoto have to wait to get a title shot? The truth is Shogun [won two fights in a row], and how many fights did Machida have to do? It's obvious something is up. I'm not here to talk bad words on anybody but life is made of chances and I said to our managers this fight shouldn't happen. Shogun didn't fight enough to deserve the belt. The thing is precious and if I was Lyoto I wouldn't accept. He is a great champion and must be respected but this is my opinion."
Here's the pitfall for any professional athlete when they reach a great level of success — forgetting that the sole purpose of your job is to entertain fans. Swinging a bat at a ball or throwing a ball into a hoop has no intrinsic value in itself, when removed from an arena full of people who are paying to see it. I worry that Anderson Silva is starting to fall prey to his own hype. A booing crowd is like a bad performance review from your boss; shape up or get lost. Insulting fans for not "understanding" the sport they're watching isn't exactly the way to get them back on your side.
And at what point did Silva start thinking that a champion should be able to refuse challengers who didn't have to wait as long for a title shot? (Of course he has a point about Rua's two-fight win streak, but if nobody else is ready to fight Machida at the moment, Shogun is a pretty solid stopgap solution.) Is this the Anderson Silva we can come to expect from now on? Is the hunger and humility gone for good?