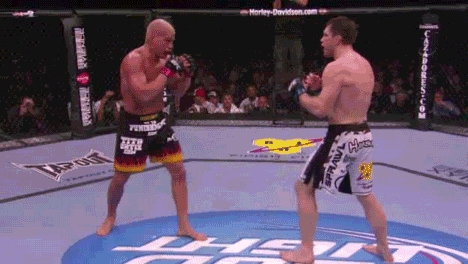 (Hey Tito, do you mind taking a look at this fungus I've got growing on my foot? I figured if anyone could spot a bizarre infection, it would be you.) 
It's looking like Tito Ortiz will be getting his wish to go out on a hotly contested decision like he's always wanted. Though the event or location has yet to be determined, Lorenzo Fertitta announced to the Twittersphere last night that the rubber match between Ortiz and Forrest Griffin will in fact be happening, and, just like Ortiz requested, could transpire on Fourth of July weekend.
After saving his Zuffa career by submitting Ryan Bader at UFC 132, Ortiz has dropped two straight to Rashad Evans and Antonio Rogerio Nogueria, both coming by way of TKO. Griffin is also coming off a first round TKO loss, which he suffered in his rematch with fellow former Light Heavyweight champ Mauricio Rua at UFC 134.
Ortiz and Griffin first met way back at UFC 59 in the spring of 2006. At the time, Griffin was on a four fight win streak including his TUF 1 Finale victory over Stephan Bonnar. Ortiz had scored two straight after being knocked out by Chuck Liddell at UFC 47, and would follow his split decision victory over Griffin by beating the piss out of poor Ken Shamrock twice in a row. Their second meeting, which went down at UFC 106, saw Griffin emerge victorious by an equally controversial split decision.
Speaking of trilogies…
It looks like Urijah Faber and Bantamweight champ Dominick Cruz will be locking horns for a third time this summer, though a date and location is still pending. Faber, who is currently 0-3 in title matches after losing his WEC Featherweight crown to Mike Brown at WEC 36, will be looking to erase the memory of a close but unanimous decision he dropped to Cruz in the pair's first rematch at UFC 132. A fight apparently so close, that it warranted an immediate rematch. These things happen in MMA. As we know, the two are set to coach opposite one another on the next season of TUF, which will surely have its fair share of stank bref jokes, pranks and blah blah blah cut, print, glass plaque. Moving on.

(MMA Rule #334: Black may not crack, but brown sure as shit does.) 
Coming off a brilliant technical submission victory over Antonio Rodrigo Nogueria at UFC 140, a statement that I still have trouble comprehending, it looks like Frank Mir will square off against Cain Velasquez in a battle of former champions, also tentatively scheduled for this summer. Velasquez has been out of action since falling to a first round KO at the hands of Junior Dos Santos, losing his Heavyweight title in the process. Again, no date or venue has been announced. It will be interesting to see how this one plays out; you have to imagine Velasquez will be a little gun shy on the feet, as many fighters are after a KO loss. And despite the fact that he's never been submitted before, it's still hard to imagine Velasquez will want to tangle with the likes of Mir on the ground. Then again, Mir has shown a tendency to be overwhelmed by powerful strikers in the past.
Who do you got for these, Potato Nation?
-J. Jones