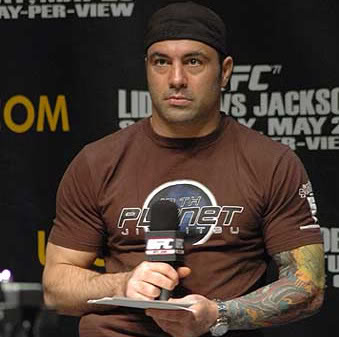 ('I am waaaaay too high for this bullshit right now.')
It is inevitably the most uncomfortable, unproductive moment of any UFC broadcast. It's more worthless than the extended video game/shitty action movie promos. More worthless even than the closeups on celebrities in the crowd, which at least has the virtue of Shaquille O'Neal's childlike exuberance for the sport and Mandy Moore's impressive cycle of facial expressions (wholesome, enthusiastic, coquetteish — all in a few seconds!).
The most cringeworthy moment of any UFC pay-per-view comes when we hear those magic words from Joe Rogan: "Talk us through the (insert name of alcoholic beverage sponsor) replay."
Please, someone tell me when this has ever yielded any commentary worth hearing. It's not that fighters don't have anything interesting to say. It's just that they usually don't have anything interesting to say right then. They're out of breath, riding high on adrenaline, and already thinking about the after-party. What do you want them to say?
At best, we can hope for a faithful narration of what we're already seeing. As we watch a slow motion replay of a big right hand landing, the fighter tells us that this was the point in the fight where he landed the right hand. Then again, maybe he'll get confused and think it's a clip from a different point in the fight. Maybe he'll just watch without saying anything and every second of dead air feels like an eternity. Maybe he'll get so pumped watching his own knockout that he'll just scream 'Wooo!'
Almost never does it result in some valuable insight, is my point. And if it doesn't work well with even the most articulate of fighters (and it doesn't), why would you even attempt it when interviewing a non-native English speaker?
It's awkward enough to interview someone when his friend/training partner serves as translator and has only a passing interest in relating every word that's said. He'd rather just give us the gist of the statement, which is why a Brazilian can talk for two minutes straight and the translation comes out sounding like: "He is happy. He thanks UFC. He wants many courageous fights."
This doesn't add anything significant to the broadcast, so why draw it out by trying to get him to explain what he sees on a giant screen? I realize there is a need to work this sponsor ploy into the show. I get that. But isn't there some other way that doesn't involve forcing the fighters to stand there uncomfortably while we look at it? Couldn't Rogan and Goldberg talk us through the replay? They could mention the sponsor as much as they want, plus the fighter gets to retain a little dignity.
I appreciate the ways that the UFC has streamlined their broadcast in many ways. But this is one post-fight tradition that needs to go. If Yoshiyuki Yoshida's experience with it at UFC 84 didn't prove that beyond all doubt, then I can't imagine what it will take.
It's not Rogan's fault (something tells me he probably hates it more than any of us). It's not a failure on the fighters' part. Really, no one's to blame except those who keep the practice in use. It's just a bad idea. Let's stop it. Forever. Thank you.