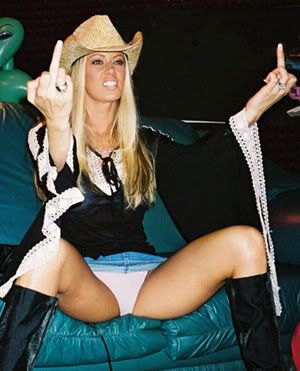 ("Mommmmm, you're embarassing me!")
Netterbog on "Jenna Jameson Gives Birth to Two Lil' Tito's": As #2 was turtle-heading its way out, I wonder if Tito gazed lovingly into Jenna's eyes and said, "let me tell you how you're feeling right now."
[Ed. note: "Babe, made you me the happiest on Earth man."]
Ted Nutmeg on "Karo Parisyan Suspended, Fined, Stripped of Last Win, and Told 'Good Day' by NSAC": Commissioner John Bailey's statement that the NSAC "can't have fighters drifting in and out of reality" should have far-reaching implications. At a minimum, I foresee lifetime bans for B.J. Penn, Tim Sylvia, Tito Ortiz, Patrick Cote's friends, and anyone who has ever had any affiliation with the Lion's Den at any point in his life.
FEDORISAPUSSY on "Must-See: Franky Van Hove, the One-Legged MMA Fighter": Talk about a one legged man in an ass kicking contest!
[Ed. note: For real. I bet Franky's cornermen never have to tell him to "stay busy".]
Marcer on "BJ Penn to Possibly Form Cult, Lead Unholy Army of Martial Arts Instructors": I came across a few examples of the classes that will be offered at this camp:
"PENN 101 – Maintaining narcissism in the face of adverse reality
PENN 213 – Increasing Chi by consuming blood
PENN 122 – The fundamentals of shit talking
PENN 203 – Cooking with a deep fat fryer – With a short intermission to cover cardiovascular training in its entirety"
If your name has been called, e-mail feedback@cagepotato.com with your name, address, and shirt-size, and we'll get a CP "Hall of Fame" t-shirt out to you post-haste!