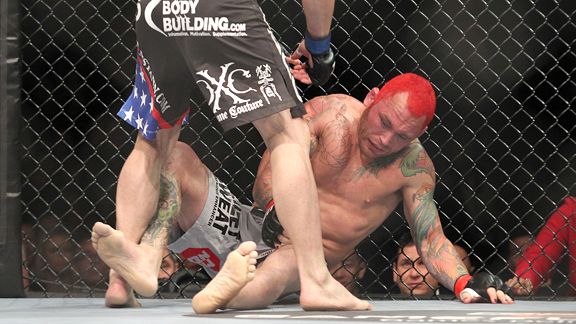 ("Damn, those NyQuil shooters Chuck bought me last night seemed like a good idea at the time." Photo props ESPN.)

Remember in grade school when your team would win a game of baseball at recess and without fail there was one shlub who would say that the winning run didn't count because the sun was in his eyes or the batter didn't touch second base?
Well Chris Leben's shlub is Burton Richardson, the head trainer at the Ultimate Training School in Hawaii who claims that "The Crippler" had a fever and chills and was vomiting in the locker room in the hours leading up to his UFC 125 fight with Brian Stann.
Richardson posted the following excuse explanation on mixedmartialarts.com's underground forum:
"First, great job by Brian Stann. He never looked better. Many have commented that Chris was very slow and looked off last night. The truth is that Chris was sick. He had a fever and chills when he stepped into the cage. He was vomiting in the lockeroom before the fight, and after a hard warm up he didn't have a drop of sweat. Big heart to fight like that, but he was moving slow motion. He was very sharp in training. He will be back."


He couldn't just congratulate Brian, say that Chris had an off night and that he will be back leave it at that. He had to take away from a stellar performance by Stann by blaming Leben's second career knockout on illness.
Funny how Leben hasn't mentioned anywhere that he was sick.
I think a new Cage Potato ban is in order. It's not like he had a cracked skull or anything.
Richardson tried to further explain his original post by saying that it wasn't an excuse why his fighter lost and that Stann should be commended, but reiterated that's why Leben looked slow and why he dropped his hands.
"Yes, credit Stann for a great performance. I have been working Chris's defense and he looked great in camp. Hands high, very hard to hit. He reverted to instinct last night. Big props to Stann.
My post was clear to many, but for the others, allow me to elucidate.
1. people were wondering why Chris looked slow and "off". I provided them with the reason.
2. I didn't say that this was the reason for the loss. Stann was amazing and may have won anyway. Good job by Brian.
3. If I had said "chris lost because he was sick", that would have been an excuse and would have been unwarranted.
Chris is banged up, still battling the flu, but is in good spirits. Thanks for the support."
If I was Richardson, I'd be more worried that the attention the gym will get thanks to his explanation will lead to the Ultimate Fight School getting a cease and desist order from Zuffa for copyright infringement.