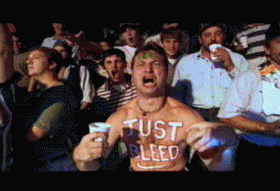 (In retrospect, this was a cry for help that his friends really should have noticed)
Dear Guy Attending This Live MMA Event,
Hey dude, how's it going? I can't help but notice that you're sitting in the seat right behind mine. That's cool. It's just that – and I don't want to sound like a jerk here or anything – you're kind of driving me crazy.
I know you're just trying to have a good time, but I have a couple of tips for you. Five, to be exact. Just hear me out:
1. You don't need to catcall the ring girl every time she gets up to ply her trade. The first couple of times? When you shouted out crude expressions about parts of her body that you found attractive, once even suggesting that you would have sexual intercourse with her if given the chance? Yeah, I think she got the point then. You don't have to keep doing it seven fights in. She knows how "totally freaking hot" she is without you screaming it at her.
2. Take it easy with the boo's. Don't get me wrong, I think expressing displeasure is your right as a ticket buyer. Maybe it's even part of the fun. But if you boo at everything, I worry that soon you will make the act of booing seem meaningless.
It's like in that last fight, when you booed as soon as the action hit the mat. Then you booed after the stand-up, and at the end of the round. You see that security guard? He's coming over here to take your beer away. Then you'll really have something to boo about.
3. We could do without the running commentary of every fight. Unless the guy you're sitting with is blind, he doesn't need you describing what's happening at every moment. You also don't need to tell us what you would do to get out of that armbar. We all realize that you "train." We figured that out when you showed up wearing the t-shirt from your gym. Something tells me that you also wore a Danzig t-shirt to that Danzig show you once attended at this same arena and have mentioned several times already.
4. You're right about how two guys fighting on the ground somewhat resembles the sex act. That's really clever of you to point that out at the top of your lungs. It was almost as funny as when you shouted "kick his ass, Sea Bass." Seriously funny stuff there, referencing that movie from the nineties. I never would have thought of doing that.
5. Lastly, please don't pick a fight on your way out of the arena. I know it sounds like a good idea. You've just seen all this fighting and it has reminded you how cool violence is, but starting a fight here will only get you arrested. Plus, it's not going to successfully impress that girl in the tube top. She's here with her boyfriend. All the women here are.
Yes, that totally sucks. You're right, Guy Attending This Live MMA Event. But what can we do?
Please let me know if you ever plan on attending another one of these. I'm going to stay home and watch TV.
Sincerely Yours,
Concerned MMA Fan