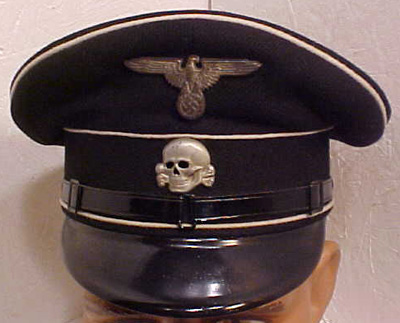 (Images via MiddleEasy)
A year after Zuffa banned Hoelzer Reich as a fighter sponsor due to their uncomfortably Nazi-ish t-shirt designs, another apparel company is under scrutiny for a potentially offensive symbol. As first spotted by WRESTLENOW on the UG, Clay Guida appeared in a recent Fight! Magazine video wearing a Silver Star shirt featuring a totenkopf. Translated to "skull of a dead man," the totenkopf symbol has been used in the German military since the Prussian army of the 18th century, but it is most closely associated with the Nazi SS – especially the particular version shown above, in which the totenkopf is shown in half-profile – and is currently favored by Neo-Nazis.


According to Cagewriter, Silver Star has already apologized, claiming the shirt was discontinued a year ago, and that "they didn't realize the association between the design and the Nazis." Also: "Cagewriter spoke to Clay Guida's manager, and he said that Guida was not aware of the fact the shirt he wore had any Nazi-related imagery. He pointed out that Silver Star's founder Luke Burritt is a Jewish American and denounces Nazism, as does Clay."
We won't accuse Luke Burritt of being a closeted Nazi-sympathizer (although Silver Star's initials are also "SS"…hmm), but this "didn't realize the association" excuse is always hard to swallow. Where else would you come across that particular symbol, if not on a Nazi's uniform? Even if a Silver Star designer saw the totenkopf tattooed on a big white prison-gang member and just thought it looked cool, you'd figure that some basic research would need to be done before it was put into production on a t-shirt. Do us all a favor and stick to what you know best, fellas: References to badass '80s metal bands.