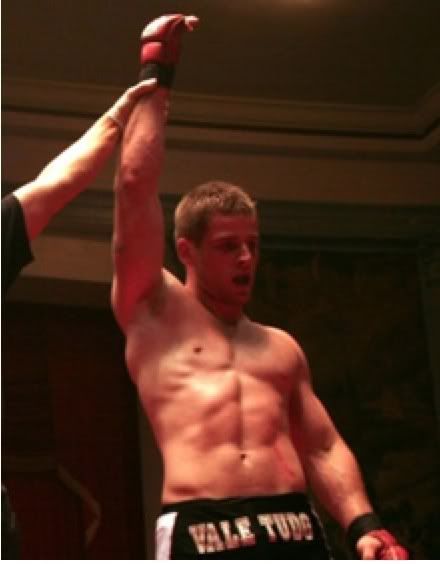 John Troyer is 8-0 as a professional and trains out of Louisville, KY with coaches Jason ("Y") Weihe and Colin Cannon. His most impressive performance came last September when he won the middleweight HOOKnSHOOT tournament by defeating three fighters in a row – all in the first round – which put him on the fast track to a BodogFIGHT title shot. That chance comes on February 1st in Las Vegas when Troyer faces Nick "The Goat" Thompson.
Some of Troyer's opponents have described him as "freakishly strong" and he combines his boxing and wrestling backgrounds to keep his opponents constantly on the defensive. After our interview with "The Goat" earlier this week, his opponent was cool enough to answer some questions for us, too.
1. Do you think HOOKnSHOOT tournaments are tougher than a single bout and how do you prepare differently for them?
Tourney style is much rougher. Very mentally draining. [But] It teaches you to relax and not rush anything. I just tried not to think about it and do what I love to do! I was very prepared. And a little lucky.
2. How do you feel you match up with "The Goat"?
I feel I have the size, strength, and heart to contend. But Thompson is well polished and has a lot of experience. He is very rounded. It will be a rough one.
3. Does his 17-1 record in his last 18 fights intimidate you?
Not intimidated, but I respect it!
4. "The Goat" admits he cries every time he sees Philadelphia. What's your favorite Tom Hanks film?
Bachelor Party.

5. Did you cry during Philadelphia?
Philadelphia???
6. Do you fight full time or do you have another means of income?
I install specialty counter tops for Lowe's and Home Depot.
7. Favorite sport aside from MMA?
Football.
8. How long do you plan on fighting?
As long as it supports the habit!