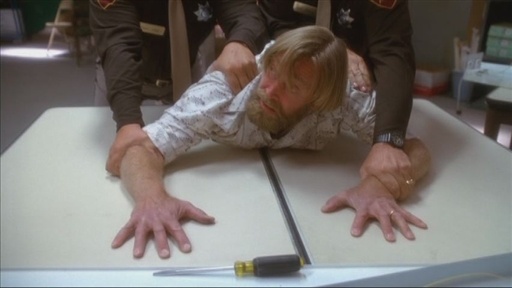 (You can have the t-shirt or your hand. You can't have both.)
When beloved CagePotato commenter Old, Bald and Irish won a CP "Hall of Fame" t-shirt for his epic Affliction/car-wreck-related comment last week, it was kind of a big moment, as OB&I tries so damn hard on all our little contests, but rarely wins anything. (Sorry, buddy.) Anyway, we've grown quite familiar with Irish. His real name is Michael, and we know where he lives. Which is why we were taken aback when we got this e-mail in our feedback account on Saturday from a dude named Greg Kelly (street # and town name have been redacted):
Cp rocks. Glad you liked my roadside accident/affliction comments. Address:
xx Partirdge Hill Road [Ed. note: From what I can tell, he misspelled his own street name. OBI would never do that.]
xxxxxxxxx, MA xxxxx [Ed. note: He's from Massachusetts, and he's a thieving A-hole? SHOCKING.]
Yeah, peace bro. Surprisingly, this is the first time that someone has e-mailed us trying to claim a contest prize that they didn't actually win. You'd think it happens all the time, but it doesn't. So Greg, consider yourself banished from the site. Caption contests live and die by the honor system, and the dishonorable shall not be tolerated. Please use this post's comment section to tell Greg what a doucheface he is.
Seriously — posing as Old, Bald and Irish? Of all people…