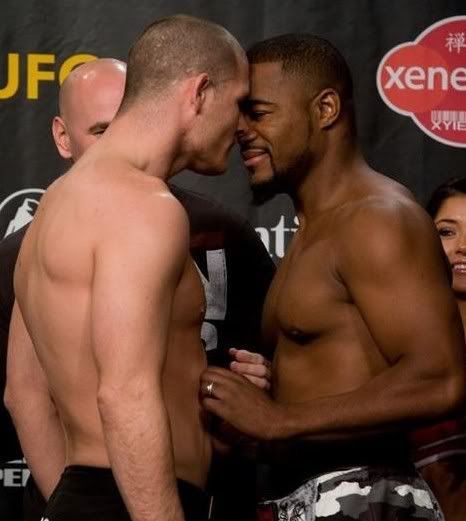 (Rashad's match with Rampage won't be nearly this friendly.)
We're less than two months out from UFC 96 (March 7th, Columbus), and so far the biggest match on the card is Shane Carwin vs. Gabriel Gonzaga. Which means it's desperation time for the UFC — a time to call up old friends and tell them they'll only have a ten-week layoff between fights. This just in:
MMAmania.com
can confirm that a main event title fight between newly crowned UFC Light Heavyweight Champion Rashad Evans (13-0-1) and former 205-pound kingpin Quinton Jackson (29-7) could be added to the UFC 96 card at the Nationwide Arena…
Perhaps the only thing currently standing in the way is time — both fighters face relatively tight turnarounds since their most recent winning performances at UFC 92: "The Ultimate 2008″ on Dec. 27.
Evans and Jackson emerged from their last bouts relatively unscathed, so it seems feasible. It also might be the only main event available at this point, so it kind of has to happen unless the UFC is cool with Carwin/Gonzaga toplining the event. Even better, it'll mean that the winner of the Lyoto Machida/Thiago Silva match at UFC 94 could challenge for the title in his next fight, as long as he's willing to wait like five months for it. Damn…just how many times could the 205-pound strap change hands this year?
Semi-related: Remember when we said that Forrest Griffin's hand injury would sideline him until the fall? Bad information, apparently. According to Forrest's people, he'll be back this summer.