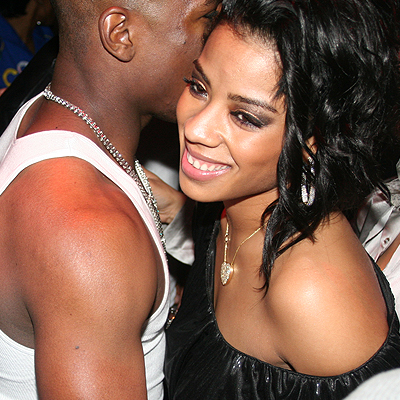 ("Baby, I just wanted to add you and the boys to my Fab 5. Here's a diamond necklace for you to make this all go away.")
Floyd Mayweather Jr. is embroiled in a legal bout he may not be able to bob, weave and jab his way to judges deciding in his favor.
Pretty Boy Floyd has been ordered to stay away from his former girlfriend and their two sons after the boxer skipped a preliminary court hearing today in Las Vegas to answer charges that he hit his ex and threatened to beat decision his children if they called 911 on September 9.
The Justice of the Peace who was to preside over the hearing gave Mayweather one week to pay $31,000 in bail money or be sent to jail until it is determined if the case will go to trial.
In all, Mayweather faces eight charges including felony coercion, grand larceny and robbery, and misdemeanor domestic battery and harassment.


During the incident in September, Mayweather is alleged to have pulled his baby's mama, Josie Harris out of bed by her hair, dragged her onto the ground, punched her in the head repeatedly while twisting her arm and attempting to break it. Prosecutors say that he then took cell phones belonging to Harris and his sons to prevent them from calling police after threatening to harm them if they did so.
Neighbors heard Harris' screams and called police and a warrant was issued for Mayweather's arrest soon after. He turned himself in to the LVPD the next morning.
Facing up to 34 years in prison if convicted on all charges, Mayweather is due back in court Jan. 24 and is said to be looking to hire Tito Ortiz's lawyer.