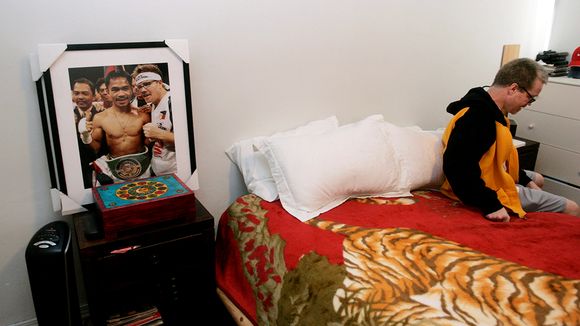 ("Step 1: Kiss a picture of Manny Pacquiao every night before you go to bed." Photo courtesy of ESPN.)
From a new MMA Weekly interview with Andrei Arlovski's famed boxing coach, Freddie Roach:
"As far as his stand up game, we'll kill him. If we can keep the fight standing up, if [
Fedor Emelianenko
] chooses to fight us like a man, we'll dominate him…Just be smart with it. Use your angles when they're necessary, but after you land a combination, because after you land a combination with Fedor, he's going to throw back. That's his instinct. He throws one punch after the other. He's very predictable. He makes the same moves every time. He's very common. His boxing game is weak…I think we're going to knock him out."
Hear that, Tim Sylvia? Angles. If you think that Freddie's "fight us like a man" line implies a lack of appreciation for MMA and its more subtle ground elements, you'd be correct. As he explains, "I think it's boring. I saw one fight where the guy just laid on the other guy the whole fight and he won." But Roach understands that Arlovski's opponent could wind up scoring a victory on the canvas:
"He looks pretty effective on the ground from what I can see. He's really good at
the armbar, I guess it's called
. How he gets those guys in the position for an armbar is pretty clever."
It must be nice to live in a world where you never have to worry about the armbar (I guess it's called). But I don't live in that world, and you don't live in that world, and Andrei Arlovski sure as hell doesn't live in that world. Can sharp boxing be enough to stave off Fedor's Hydra-like attack? We'll find out on the 24th, but my money's still on the chubby guy.