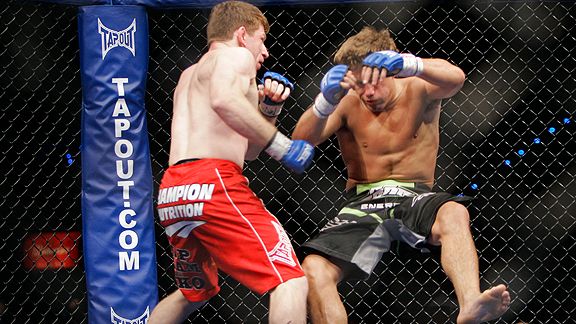 (The fact that Faber got KTFO'd by Brown last time just means he's due for a win, right? Photo courtesy of ESPN.)
If Saturday's Strikeforce matchups seem a little too unpredictable for you to throw some money down, may we suggest taking your mortgage payment disposable entertainment income and wagering it on Sunday's WEC event instead? There might be some "sure things" to be found here — and when you bet on smaller fighters, they appreciate it more. Check out these odds from our new friends at MMA Moneyline and let's see if we can't get daddy his proverbial new pair of shoes:
Urijah Faber (-115) vs. Mike Brown (+120)
Jose Aldo (-360) vs. Cub Swanson (+300)
Donald Cerrone (-400) vs. James Krause (+450)
Josh Grispi (-150) vs. Jens Pulver (+130)
Manny Gamburyan (-225) vs. John Franchi (+200)
Rafael Rebello (-110) vs. Kyle Dietz (-110)
Mike Campbell (-275) vs Anthony Pettis (+260)
Scott Jorgensen (-145) vs. Antonio Banuelos (+135)
Frank Gomez (-140) vs. Noah Thomas (+135)
Seth Dikun (-115) vs. Rolando Perez (-110)

Okay, you want our advice?


- Since he beat the tar out of Faber last November, Mike Brown has gone from heavy underdog to slight underdog. Let's be honest — that's some insulting shit. You've already read how we think this match is going to turn out, so bet accordingly. Don't blow your wad on this one, because Faber is always dangerous, but a moderate wager on Brown is in order here.
- The other narrow line on the main card is Pulver vs. Grispi. The way I see it, Pulver and his diminishing skills should be closer to +200; maybe the betting sites felt bad for him or something. Based on the way that Grispi has looked in the WEC so far — banging out first-round stoppage victories over Mark Hominick and Micah Miller — I don't see Pulver escaping his fourth-straight loss. If you're going to bet on one favorite in this card, go with Grispi.
- Be careful with Manny Gamburyan. It's always wise to take a wait-and-see approach when it comes to guys fighting in new weight classes (this will be the Anvil's featherweight debut), and Gamburyan's last two UFC appearances didn't inspire much confidence. I'm not sure if a -225 favorite line for him is warranted, even against the less-experienced John Franchi.
- Absolutely Don't Bet Against: Donald Cerrone. Sure, you see a guy with a 10-0 record (with all wins by stoppage) as a +450 underdog and you think the oddsmaker must have fucked up. No, he didn't. Krause built up his record against small-time ham-'n'-eggers, most of whom don't even have winning records. Cowboy is as legitimate and dangerous as they come. He's got this.
- Official Cage Potato Parlay: Aldo + Cerrone + Grispi. You won't get rich, but at least you'll be able to return the cash you stole out of your girlfriend's purse.