Somehow, you've managed to achieve victory.  You are tired  and perhaps banged up, but you wish to enthusiastically demonstrate how important the win was for you.  A good robot dance or Point Up To The Man would be sufficient; going all out could work out against you.  Choose your next actions carefully.
Failabrations
A good backflip celebration makes an impression, and shows that you still had explosiveness left in the tank after you've beaten your opponent.  Mr PRIDE had a good one.  So does GSP.  Wait, this just in…
Even GSP can botch the backflip celebration.

We're pretty sure impaling yourself on your win trophies and ending your career would be the definition of irony in MMA.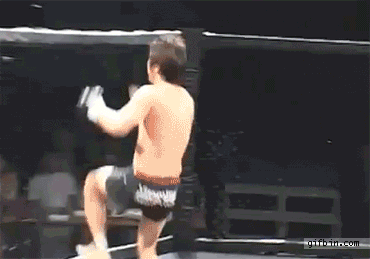 "Hey you guys I won!  I HATE MY PELVIS!"
Lesnar will never backflip in celebration.  This is why.
Of course, you don't have to try a backflip to fail at celebrating.  The great Mark Coleman illustrates:
Sure, you can be excited for the win.  Just don't jettison your coordination completely until you're out of the arena, maybe?
Whatever, just look at that grin.  He's so happy.
So there you have it, Nation:  MMA Fail 101.  Fun, huh?  Best part is, we still have plenty of fighters' embarrassing moments left.  Good times.  Until Volume 2, you bastards, just keep in mind:
"Try again.  Fail again.  Fail better." -Samuel Beckett
[RX]