Travis Fulton vs. Jeremy Bullock: just what the hell did they expect to happen?
"Try again.  Fail again.  Fail better." -Samuel Beckett
Keeping those words from the first collection in our hearts, we've assembled the second installment of moments in MMA that some of us (mostly the athletes involved) would like to forget.  The rest of us, we want to see those moments saved forever, preferably in a graphic format that loops endlessly.
First, get your mind right with a fight video from the dark ages of MMA, when any human with a pair of pajamas and some Tae Kwon Do could try that crazy ultimate fightin' stuff.  It was 1998, and Travis Fulton had already had over sixty fights.  His opponent was Jeremy Bullock, a skinny guy that probably really liked Bruce Lee movies.  Make sure to watch Bullock's interview, where he shares his keys to victory with everyone, including Fulton.  Also watch the fight, where Fulton shares his love for a good pro wrestling-style chokeslam with everyone, including Bullock. (Reportedly, Bullock thinks Bruce Lee is a fucking asshole these days.)
Once you're done with that piece of history, come on in and we'll share more moments of infamy, awkwardness, stupidity, and shame.  It's Fail GIF time, kids; let's party.
As always, big ups, props, and mad respec' to the GIF masters and the websites that host them: Chris Bunch o' Numbers, Uncle Justice, Damn Severn, Zombie Prophet, Caposa,   UpstandingCitizens, MMA-Core, IronForgesIron, and MMATKO.  If we forgot you, it's not on purpose.
Get Started on the Right Foot!
To be successful in an MMA fight, a solid start is important.  Intimidation during the staredown can be helpful, but make sure that your first offensive attempt is sound.  The first minute of a fight will set the tone for the entire bout, and you want to be ahead from the first bell.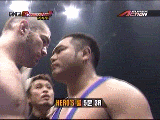 Yoshihiro Nakao succeeds in disrupting Herring's gameplan, fails at fighting.
Turns out Dustin Hazelett is a huge Harold Howard fan.
Before Lyoto Machida, there was Sean Salmon.  Karate Kid never die!