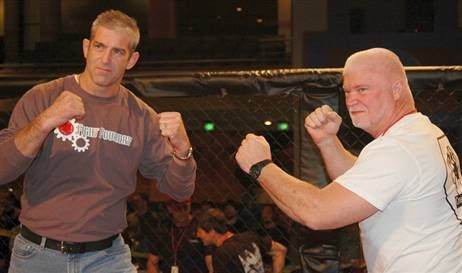 (Skip Hall, right, poses with his last opponent, spring chicken Kelly Rundle.)
Fightlinker had a good find today from a recent NBCSports story about Skip Hall. Skip is reportedly the oldest active MMA fighter in the world at a spry 63-years-old. He's said to have fought in over 12 pro fights, although "pro" may be a loose term — Sherdog has his record at 2-4. It's a pretty decent article about a man who is clearly nuts to still be taking shots to the gut at his age.
The piece also announced Hall's retirement, which will take effect after Saturday night's Dixie Throwdown V in Alabama. He will face the 1-1 Kelly Rundle. What Skip Hall is probably best known for is setting the unofficial combined age record for an MMA match when he fought Dan Severn back in 2006. However, he'll break that on Saturday when he and Rundle creak into battle — they are a combined 111. That makes Rundle…well, I don't have my calculator watch handy, so do your own math.
The article brings up other old dudes in sports, like Billy Crystal taking a bat recently for the Yankees a day before his 60th birthday (which is ridiculous), and the 59-year-old fart who barely played Division III football last year. But really, the only other comparisons would be like your grandfather being a starting lineman for the Packers or playing wing for the Flyers. The question is posed "how good would he have been" had Hall been a young man when MMA started up. While that's up for debate, there's no denying that just having the balls to still do this at the age of 63 is kinda' cool. Even if he does poop his pants when he takes a shot.