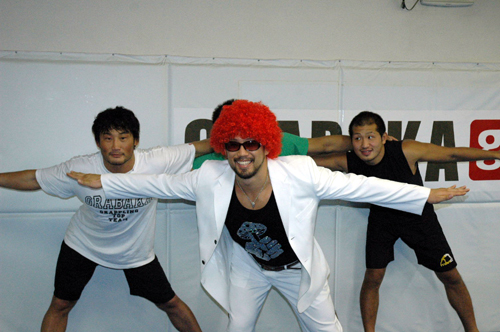 (Gono won't be doing the 'airplane' at UFC 82.)
As UFC 80 was the focus of the MMA world this weekend, UFC 81 & 82 saw some adjustments to their cards. On Friday, Akihiro Gono announced on his personal blog that a hand injury is forcing him out of UFC 82 against Jon Fitch. Here's the message (unedited):
I have a pain in my righthand from November(UFC debut fight)
So I could not train enough
I wondered it,Doctor checked my hand again,and This condition was so bad,
Doctor ordered me to stop fight and all training.
And operation is done. maybe in Junuary
I am verry sorry,my fans and John Fitch……..
I will annnounce operation schedule and come back time
Gono, an eccentric welterweight, debuted for the UFC back in November when he beat Tamdam McCrory via a second round submission. It is not clear who will replace him against Fitch since many of the top welterweights in the division have fights already booked or have fought too recently to accept another so soon.

Also, UFC 81 – which is just on the horizon – has lost Tomasz Drwal. A fact which has been confirmed by his manager. A knee injury appears to be the culprit. In contrast to Gono's start, Drwal lost his debut for the UFC when he went down via TKO to Thiago Silva last September. He was to fight David Heath, who has lost two in a row – including when he was nearly murdered by "Babalu".
A replacement has not surfaced for the Polish fighter, but agents are certainly scrambling to put someone in the cage with Heath. We'll keep you posted on who will fill in the holes for these events as soon as it happens.