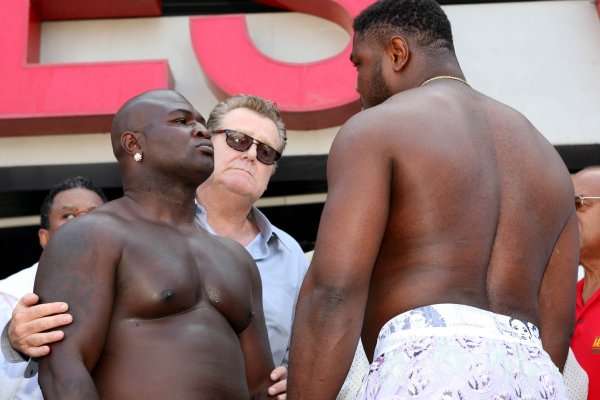 (What a backwards society we live in when wrestling is for girls, but diamond cluster earrings are for badasses.)
At first, I thought James Toney was just just posturing when he said that MMA fighters wouldn't stand a chance against top-level boxers, but now I'm beginning to think that "Lights Out" really believes it when he says that mixed martial arts is an inferior combat sport and that he will dominate any heavyweight the UFC throws at him, starting with his upcoming UFC 118 opponent Randy Couture.
In a recent interview with Fighters Only Toney, who is still delusional enough to believe that he is one of the best boxers in the world — a distinction he hasn't known for a number of years — said that wrestling is not a man's sport and that his credentials cancel out those of Couture, despite the fact that he is fighting him in his sport.


"I don't care if Randy Couture is a legend in this sport, I have had a career of knocking guys out in their back yards," he says. "Boxing is the superior science, we are the best. I am going to show that wrestling and hugging people is for women. That's not going to happen against me. I have a lot of KO's in my career and you will see another one on August 28th."
When asked about whether the rumors were true about him submitting Strikeforce light heavyweight champ Muhammed Lawal in training, Toney said the story was true, but gave a different account of the method he used to tap "King Mo," who said it was by guillotine.
"Yeah its true, I worked with King Mo. He was happy to come down and spar with me," he explains. "He showed me some skills and I submitted him with a rear-naked choke. But you know that jiu jitsu, all the hugging… its for girls."
Shrugging off any insinuations that he may be in over his head in the UFC, Toney pointed to Brock Lesnar being a former pro-wrestler and came into the promotion and won the belt as evidence of how ludicrous the claim is.
"Lesnar is a former wrestler-actor [and he's] now in the UFC. He runs with his head down. Yeah I want to fight him down the line. I'll fight the lot of them – in one night if I have to!"
The difference is, Lesnar wrestled for real before he did all that fake stuff.
It's beginning to seem like Toney is trying to use the insults about wrestling being feminine to bait Randy like a child into standing with him by insulting his bread and butter, but as "The Natural" told Ben this week, he isn't falling for it.
At least he'll have his excuse ready if he loses.
I can picture his post-fight interview with Joe Rogan:
Joe Rogan: "Well, James, you came here to prove that boxing was a superior sport to MMA and you fell short of your goal. What went wrong tonight?"
James Toney: "Randy didn't come to fight, he came to hug me. That's not a fight. Nobody calls 911 when somebody gets hugged for 15 minutes in the hood. This just proves boxing is better, because Randy was afraid of my craft. His just made me feel half a homosexual."
Rogan: "This isn't boxing. Why would he want to box with a boxing champion in an MMA fight?"
Toney: "He wouldn't, because he'd get knocked the f*ck out. I want Brock Lesnar. Lets see if he's afraid to fight me or if he's gay too and wants to snuggle me."
Rogan: (laughing) "Ladies and gentlemen, James "Lights Out" Toney."