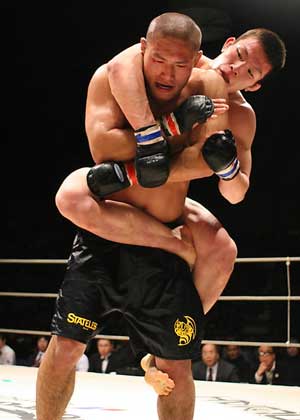 (Shinya Aoki wraps up Akira Kikuchi during a Shooto championship bout in February 2007.)
Gesias "JZ" Calvancante and Shinya Aoki — who we have ranked as the #2 lightweight and #7 welterweight in the world, respectively — were originally scheduled to face each other at the Yarennoka! card in Japan on New Year's Eve, but Calvancante had to pull out of the match due to a knee injury sustained during training. Luckily, Calvancante has recovered and the fight has been rescheduled to a K-1 event in March.
Calvancante, a Brazilian-born American Top Team member, has won the K-1 HERO'S Lightweight Grand Prix championship for the last two years, knocking off fighters like Rani Yahya, Caol Uno, and Vitor Ribeiro in the process. His record is 14-1-1, with his only loss coming at the hands of Joachim Hansen in 2004, and his draw coming from a 2005 match with current IFL lightweight champ Ryan Schultz. Shinya Aoki — one of the only fighters in the world whose ground skills may surpass B.J. Penn's — is Shooto's current middleweight (167 lbs.) champion. The Japanese fighter's 12-2 record includes wins over Joachim Hansen, Clay French and Akira Kikuchi (twice).
It's not clear yet which weight class the match will be fought at, or if this will be an open-weight bout — we'll update you when we know more.