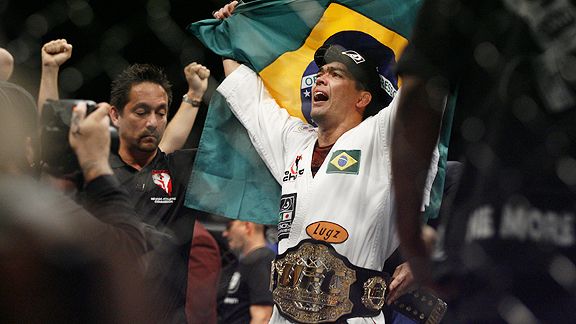 (Click here to cast your vote for this guy. Or whoever you want. No pressure.)
Nominees for ESPN's 2009 ESPY Awards have been announced, with two UFC fighters honored in the "Best Fighter" category. While Georges St. Pierre was MMA's only representative last year — he was edged out by Floyd Mayweather Jr., who also won the award in 2007 — this time we have Lyoto Machida and Anderson Silva going up against boxing champions Shane Mosley and Manny Pacquiao. Pac Man will probably take this thing in a landslide, but why not let your voice be heard by voting? Y'know, particularly for Machida, whose innovations in the sport and accomplishments over the last 12 months deserve to be recognized. The polls are open through July 11th, and the Sam Jackson-hosted awards ceremony goes down July 15th at the Nokia Theatre in Los Angeles.
No other MMA fighters are nominated for any of the other categories, which is a shame: Couldn't they have given us some love for Best Upset (Frank Mir over Antonio Rodrigo Nogueira), Best Coach (Greg Jackson) or Best Team (Team Kimbo)?