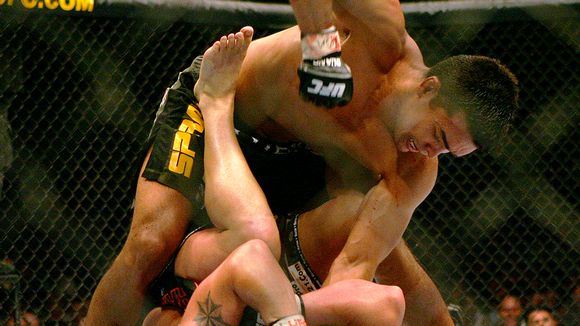 (Photo courtesy of ESPN.)
The other day, Dana White called out Lyoto Machida as possibly the next in line to be "best pound-for-pound fighter in MMA" after Anderson Silva retires. After reading this interview by our pal Ben Zeidler, we wonder if White told Machida that such hype comes with a price — he has to start pretending like he has a personality. In the past, Machida has given interviews like he fights; no frills, accomplish your objective and move on. Now, things are getting a bit more colorful:

BZ: Is there anyone other than Thiago Silva that you would like to face?
LM: Give me the job and I will get it done. Rampage, Couture, Liddell, Vanderlei, Shogun, I work hard to win and will keep winning. Who thought they would see Tito with his back on the floor? Tito is a Great fighter but when he faced me, Lyoto, you know the ending.
BZ: Tell us a little bit more about your training regimens.
LM: My training is very versatile. My life is training, I just make some adaptations for each opponent. They need to worry about me. Look at my past, when I finish the fight I go dinner and have some fun and the other fighters go to the hospital.
BZ: What do you say to fans who say your style is boring?
LM: I am a martial artist, there is a lot of thought and strategy that goes into the way I fight…For some that is boring, I know, but I am beating the best in the world. After my fights I do not have nothing on my face, no scratches, no bruises. I am like a ghost — they can not find me. If that is boring, that is their opinion. But I will be there for long time WINNING.
Zeidler notes that the interview was done through a translator. Unless that translator was Renato Sobral, it sounds like Machida may be trying to change his persona into something more brash. Not a heel necessarily, but cocky — an unkinder, ungentler version of his former self. Will some of that attitude transfer to the cage? An aggressive performance against Thiago Silva at UFC 94 next month could bolster his case as next in line for a title shot if he can score a stoppage victory.