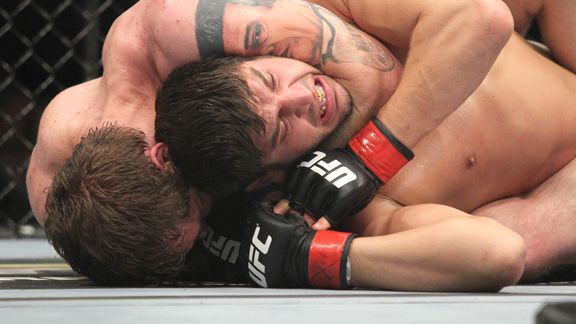 (Johnny Cash says, 'Goodnight, sweet prince')
A middleweight clash between Demian Maia and Alan "The Talent" Belcher has been verbally agreed to for Ultimate Fight Night 22 on September 15 according to a report by MMAFighting's Ariel Helwani.
The bout, which could make or break Belcher's bid for a title shot, considering Maia just lost to current UFC middleweight kingpin Anderson Silva and has been relegated to the back of the growing queue of contenders, will likely be the main event of the show that will lead in to the premiere episode of The Ultimate Fighter 12 on SPIKE TV.


Belcher impressed in his previous four outings in the past year and a half. In that time, the Biloxi, Mississippi native dropped an arguable split decision to experienced judoka Yoshihiro Akiyama, submitted former PRIDE standout Denis Kang and former number one UFC 185-pound contender Patrick Cote and TKO'ed Wilson Gouveia. Not bad for a guy who was at risk of being cut by the UFC after racking up a less than stellar 1-2 record in his first three fights with the promotion.
Maia inexplicably leapfrogged Nate Marquardt in line for a shot at Silva's gold despite being KO'ed by the former King of Pancrase and having only beaten one top ranked UFC middleweight, Chael Sonnen in his UFC career. Besides his submission victory over Sonnen, who is tapped to face Silva at UFC 117 in August, Maia's UFC wins have come opposite Ryan Jensen, Ed Herman, Jason MacDonald, Nate Quarry and Dan Miller.