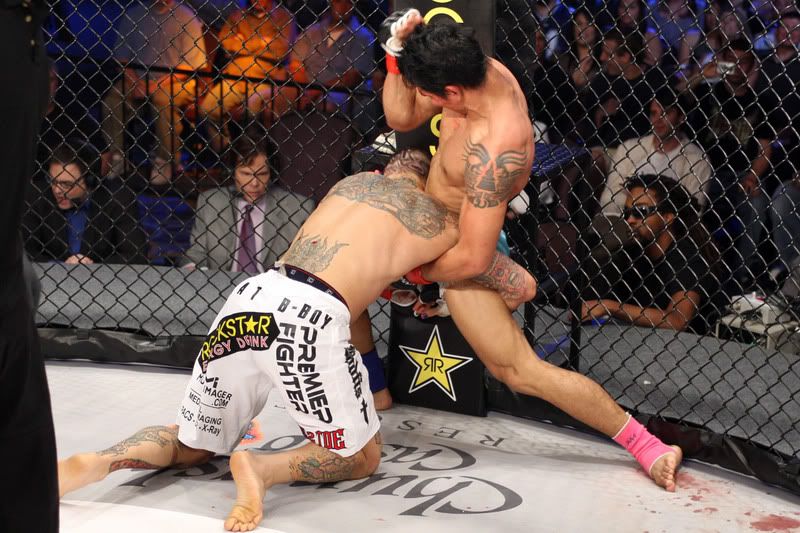 (Malaipet delivers an elbow to the back of "Wildman" Denny's head.)
The highly anticipated match of the night turned into a DQ win for the "Wildman". Malaipet nailed Thomas Denny with an elbow to the back of the head and with downward motion last night to get himself disqualified in the main event of the ShoXC: Elite Challenger Series which aired on SHOWTIME.
Denny took the fight to the mat early, where the fight stayed for almost the entire first round. Malaipet escaped being submitted and was able to get to his feet. Denny then attempted to get things to the ground again when the Muay Thai kickboxer committed the disqualifying elbows. Denny was unable to recover after being given time to shake off the blows. The official call was DQ at 4:51 of the first. Malaipet dropped to 3-2 in MMA after a successful kickboxing career and Denny's record went to 26-16.
Post fight quotes from the press release:
"I'm sorry because I came here to fight, but this is MMA and you have to follow the rules," said Denny, who could not continue
after he was nailed by three blatant elbows to the back of the head. "I may have been dazed but I wasn't knocked out. One thing I could not do, however, was move my neck."

"I definitely want to fight him again," Malaipet said. "If he wants to do it at 150 pounds, I'll fight him any time, any place. This wasn't my type of fight. But there was no way I was ever going to tap out."
In other action, Conor Heun went to 7-2 when he earned a unanimous decision — one that didn't sit well with the crowd — over Marlon Mathias. While it was a back-and-forth battle, the judges still scored it 30-27 on each card. Mathias clearly hurt Heun more and landed the most blows — Heun had a gash above his left eye and possibly has a broken jaw. Mathias expressed his disappointment afterwards with the decision, stating he knows he won at least two rounds.
Jaime Fletcher pulled an underdog win out in his light heavyweight battle with Aaron Rosa. The decision drop was Rosa's second loss in a row. Shane Del Rosario KO'd Analu Brash in the first round of their 265-pounder bout. It wasn't even much of a fight, with Brash barely surviving until the 3:16 mark. The opening televised fight saw Mark Oshiro raise his record to 10-1 with a knock out of Chris Cariaso — handing him his first loss in seven pro fights.
If you missed the event, you can check it out on SHOWTIME On Demand starting Monday the 24th until Sunday, April 20th. You'd have to be the biggest lazy ass in the world not to be able to catch it. And remember that the next MMA event on SHOWTIME is a weekend away — Saturday, March 29th. Frank Shamrock will put his middleweight belt on the line against Cung Le in the headliner.
Check out the full results from the night:
Televised:
– Thomas Denny over Malaipet via DQ (elbows to back of the head), rd 1
– Conor Heun over Marlon Mathias via unanimous decision
– Jaime Fletcher over Aaron Rosa via unanimous decision
– Shane Del Rosario over Analu Brash via TKO, 3:18 of rd 1
– Mark Oshiro over Chris Cariaso via KO, 2:38 of rd 1
Non-televised:
– Kenny Johnson over Michael Penafiel via unanimous decision
– Steve Gable over Eric Jones via TKO, 2:47 of rd 1
– Lyle Beerbohm over Vince Guzman via sub (rear naked choke), 3:26 of rd 2
– Devin Howard over Mark Kempthorne via sub (rear naked choke), 2:53 of rd 1
– Brandon Tarn over Jason Williams via sub (rear naked choke), 1:05 of rd 2