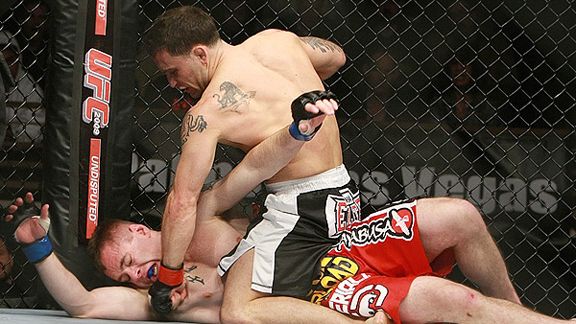 ("What's so hard to remember about 'Hold the anchovies?'" PicProps: Connect.in)
Man, why are we totally not surprised that Frankie Edgar's boxing coach owns a pizzeria? When you're talking about a bunch of guys from New Jersey it might sound culturally insensitive to make that assumption but at least according to MMA Weekly, it's also true. The man responsible for Edgar reaching zenith of his stand-up game in recent fights is one Mark Henry – no, not that Mark Henry – a former member of the US Boxing team who has also owned and operated a place called Pino's Pizza in the Jerz for nearly two decades. Frankly, it sounds like a bad place to try to rob unless you're bringing a gang of homies and a whole lot of firepower.
Henry has been working with Edgar for some time, but says they only really got serious about pugilism after he watched Edgar suffer his lone career loss to Gray Maynard in April, 2008. Coincidentally, this interview comes to us just as Edgar is preparing to defend his 155-pound title in a rematch against Maynard at UFC 125 on Jan. 1. See, that's just good storytelling from the Gray Lady of MMA Journalism. But we digress …

"Before (the first) Maynard fight we were only hooking up once a week … ," Henry tells Weekly. "After he lost to Gray I said 'I don't know what you've been doing but you need to do more boxing, you need to go four days a week if you want to do this thing serious. You have the potential, (but) we have to hook up at least four days a week.' Since the Gray loss we hook up religiously three to four days a week and so it hasn't always been about the evolution, it's just been about putting in the time."
Can't really argue with the results. Since losing to Maynard, Edgar has put together five straight wins, including totally befuddling BJ Penn (a guy thought to have some of the best stand-up in the weight class, if not the sport) in back-to-back scraps during 2010. He's also developed one of MMA's most elusive and frustrating attacks, peppering his opponents with punches while keeping himself out of danger. These days in training, Henry says Edgar goes 10 rounds with the pro boxers, no problem.
"I have a guy who is especially good, he's professional, he's a local guy, and he's phenomenal, (he's fought) New York Gold Gloves a couple times, New Jersey Gold Gloves," Henry says. "He was amateur fighter of the year and now he's pro (at) 11-0. This kid's really good and he's one of Frankie's main sparring partners boxing-wise. I remember we used to not even be able to go four rounds with this guy, I'd be afraid of Frankie getting killed and now he goes out and he'll go 10 rounds with him."
We agree that Edgar has improved enough on his feet that his second bout with Maynard could be interesting if he can keep it vertical. That's the million dollar "if" though, isn't it? In order to work his rapidly improving boxing game, Edgar's going to have to avoid Maynard's tireless grinding takedowns and top control. Let's hope he's also working his takedown defense, possibly with a wrestling coach who also owns an Italian soda shop.