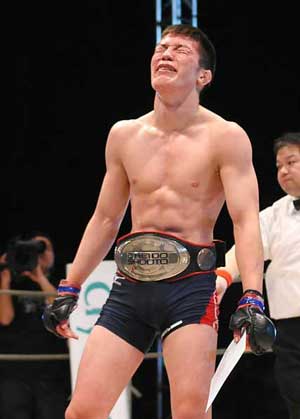 (Grow some bushido, y'pansy.)
"I guess they were trying to get Aoki, but he's got no bushido. I don't think Aoki wants to fight me. He's got no warrior spirit. He's from Japan, who would have thought?" — Jake Shields issues his own "Don't be scared, homey" to Shinya Aoki, who allegedly turned down an offer to fight EliteXC's welterweight champ.
"This is the flaw with American fans. On the one hand, the American fan is incredibly intelligent and gets the game and understands what's going on, but literally the other hand is, the other 50 percent of them are morons who have no idea what the fuck they're talking about." — Frank Trigg on the superiority of Japanese MMA fans.
"To be honest he was really slippery and I don't mean that like technically-wise, he was really slippery. I don't know, I don't want to speculate and say that something was used or whatever but he was just hard to hang on to and that was from all the positions. Even when I had him in like a headlock or a guillotine everything was just really slippery…all I know is I'm good at keeping those positions and I know the difference between sweat and something else and it felt like something else but who knows. (Jokingly) Maybe it's Albolene left over from the day before from the weight cut!" — Kenny Florian politely accuses Roger Huerta of being a filthy, greasy cheater.
"I would say the only guarantee K.J. has is to pull up a chair and watch the event and get comfortable on that chair because he'll be sitting for a little bit." — EliteXC VP Jared Shaw on K.J. Noons's options if he declines the fight with Nick Diaz.