(Time sure does fly…)
WEC 49 went down 1 year ago.
Why it matters:
Josh Grispi earned the next shot at WEC featherweight champ Jose Aldo with his win over LC Davis at this show held in Edmonton, Alberta. Because of an injury, Aldo had to pull out of their planned UFC 125 bout. Rather than wait for his shot, Grispi took a fight with Dustin Poirier on the January card and lost via unanimous decision. As a result, another fighter who impressed on the UFC 49 card earned the next shot at Aldo.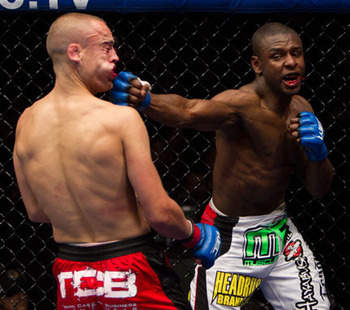 Mark Hominick was en route to a unanimous decision loss to fellow Canadian Yves Jabouin in Edmonton, but pulled out one of the most impressive come from behind wins in WEC history.
Stunned and dropped by a stiff right hand, Hominick weathered the ensuing ground and pound onslaught, swept Jabouin and forced a TKO stoppage via punishment from the mount.
A quick first round TKO win over teammate George Roop in his next bout earned him a shot at Aldo at UFC 129 this past April. Although he couldn't finish the Aldo, Hominick showed the heart of a champion by fighting through a massive, disgusting hematoma to give Aldo the fight of his life and finishing the last round in dominating fashion.
Banner Promotions: Night of Combat went down 3 years ago.

Why it matters:
Although the show that took place at the Thomas & Mack Center, in Las Vegas, NV wasn't a particularly good one, besides the main event bout that saw John Alessio beat Pete Spratt by second-round rear naked choke in spite of a broken arm, one bout received much media attention, perhaps for all the wrong reasons.
Kim Couture made her MMA debut on the card against Kim Rose. Like her Xtreme Couture teammate, Alessio, Couture fought through the pain of a grisly broken bone and continued to fight. Unlike Alessio, she came up short, losing to Rose by unanimous decision after sustaining a broken jaw in the first round.
One year later, Kim tapped out on her marriage to Randy Couture, but kept "Captain America's" last name. She has continued to fight, compiling an un-Couture-like 3-4 record.
Quinton "Rampage" Jackson was born 33 years ago.

EMBED-Rampage dry humps Cagepotato Reporter – Watch more free videos
Why it matters:
Jackson disproved the conventional theory that to be successful in MMA today, a fighter needs to be well rounded. Rampage's style is known as sprawl and brawl and predominantly focuses on the Memphis, Tennessee native knocking fool's brains around in their skulls. Although he has a wrestling pedigree and a trio of submission victories under his belt, Jackson, who has stated on more than one occasion that he hates when a fight turns into a "boring jiu-jitsu" match, prefers to stand and bang, and if he gets the chance he may slam you on your head for good measure.
He held the UFC light heavyweight title for 406 days, which is the fourth longest title run for a holder of the strap.Tito Ortiz (1,260 days), Chuck Liddell (770 days) and Frank Shamrock (703 days) were the only fighters to hold it longer. Only Jackson and Lyoto Machida have successfully defended the title since Jackson won it from Chuck Liddell in 2007. Since then, it has changed hands five times.
With wins over Dan Henderson, Ricardo Arona, Chuck Liddell, Kevin Randleman, Murilo Bustamante and Matt Lindland, Jackson has been a perennial top ten for several years. Recent wins over Lyoto Machida (split decision) and Matt Hammil (unanimous decision) have somehow allowed him to leapfrog Rashad Evans to a shot at Jon Jones at UFC 135 in September.
Roy "Big Country" Nelson was born 35 years ago.
Why he matters:
In addition to winning The Ultimate Fighter 10, "Big Country" is also the former IFL heavyweight champion. He has beaten prospects Stefan Struve, Brendan Schaub, but is perhaps better known for his highlight-reel loss against Andrei Arlovski and his ballsy decision losses to Ben Rothwell, Junior dos Santos and Frank Mir.

(Video courtesy of YouTube/EpicKiler187)
Although he may never wear UFC gold, Nelson is a good litmus test (read: gatekeeper) for any contender who is being considered a viable contender.