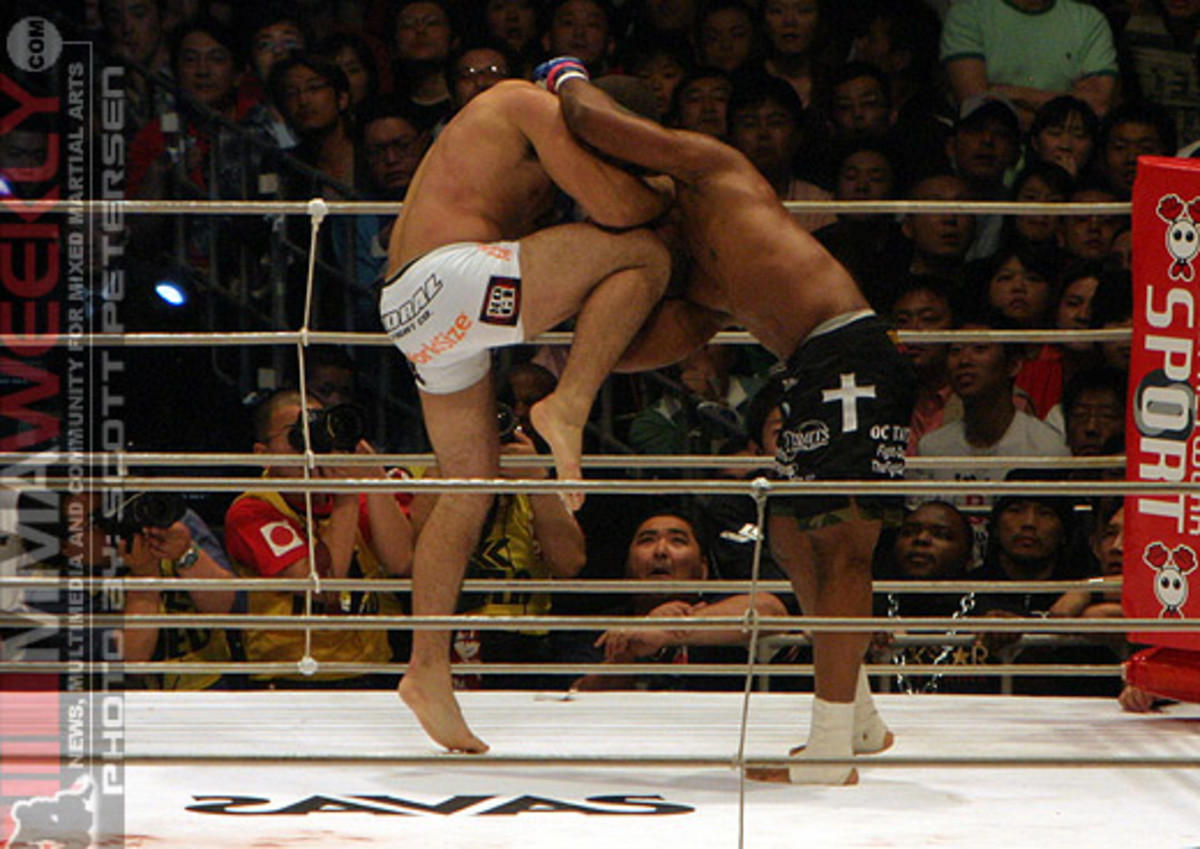 (If it isn't my old nemesis, "The Knee." Come to finish me off, have you?)
Well this is interesting. Coming off a razor thin decision loss in a Fight of the Year candidate match with Dan Henderson at UFC 139, Mauricio "Shogun" Rua is looking to get back in the 205 lb mix. With many of the division's elite already tied up with their own fights, the former UFC Light Heavyweight champ finds himself in a difficult position in terms of matchmaking. But according to Rua, there is one specific fight he has his eyes set on, and it's not the one you would think. Here's what he recently told Tatame.com:
The fight against Rampage will happen eventually. It's inevitable and UFC knows it. He won't retire before fighting me and neither am I (laughs).
As we all know, these two first met back at Pride FC – Total Elimination 2005. Shogun thoroughly dominated Page with a mix of muay Thai knees and soccer kicks, mercilessly finishing him off at 4:47 into the first round.

(Rampage/Rua 1. Fight starts at the 3 minute mark.) 
Other names like Phil Davis, Rich Franklin, and Ryan Bader, who most recently trumped Rampage via UD at UFC 144, were also mentioned as possible future opponents for Rua, but after giving his record a quick once over, it becomes evident why he's angling for a rematch with Jackson. Simply put, Rua in a rematch scenario is basically money in the bank. In his UFC career, Rua has had three rematches against Mark Coleman, Forrest Griffin, and Lyoto Machida. He won all of those fights by way of (T)KO. Add to that the fact that Rua/Rampage could easily co-headline any PPV card out there, and it's pretty obvious why he would want this rematch. Granted, he lost to all of those opponents the first time around, whereas he beat Rampage, but you get what we're saying.
And quite frankly, we're all for this rematch. Rampage, to put it lightly, looked like shit against Bader. Sure, there are some outside injuries to blame, but just as much of the blame could be placed on Jackson's lack of motivation. Bader was not an opponent that meant much to Page, and it showed. A Rua rematch, on the other hand, is a fight that Quinton would undoubtedly want to vindicate himself with. Needless to say, if he can't get amped for that fight, then Jackson has truly run his course in the UFC.
And you guys remember the last time Rampage was seeking vindication, right?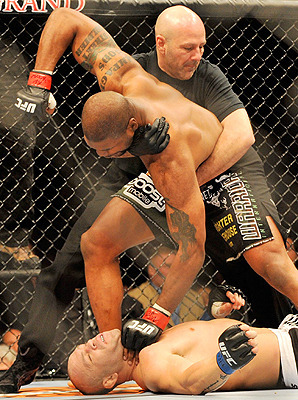 We do.
-J. Jones