(Don't worry, Gina. We won't let Cyborg on the set.)
It appears that Cris Cyborg may have taken more than just Gina Carano's Strikeforce belt when she beat the woman many consider to be the most popular female mixed martial arts fighter of all time last August.
She may have taken her will to fight as well.
360 days have passed since her last bout and while the MMA community holds its collective breath waiting for an update on when (or if) Carano will fight again, her former trainer, coach and cornerman Randy Couture isn't convinced she'll ever compete again.


In a Q&A session ahead of UFC 117 last weekend, Couture had this to say when asked about Gina's fighting future:
"Gina just did a movie that's going to be coming out soon. I haven't seen her in the gym, haven't talked to her in nine months," Couture revealed. "I'm not sure where she's at. I know the movie is going to be very big for her and I'd be very surprised to see her back in the cage."
The movie he's referring to is Steven Soderbergh's Haywire, which is basically a revamped version of The Bourne Identity with a female lead. Set for theatrical release in January 2011, Haywire also stars Channing Tatum, Ewan McGregor, Michael Douglas, Michael Fassbender, Bill Paxton and Antonio Banderas.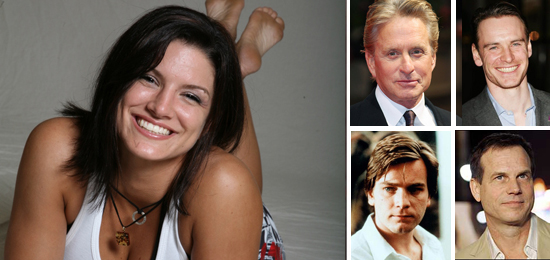 (Carano and her Haywire costars (inset clockwise from top right corner) Fassbender, Paxton, McGregor and Douglas)
From all accounts, the movie is decent and there's no denying that the cast is impressive, but if we learned anything from Cleopatra, The Avengers, Battlefield Earth, Gigli or Alexander, not even Academy Award winning actors can save a film from tanking at the box office. Hopefully Gina didn't throw out her training gear just yet.

(Carano on the set with Obi Wan Kenobi)