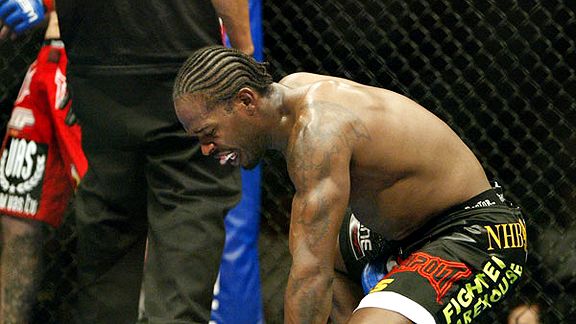 (With 9mm down and out, WEC is looking for someone to face "The Polish Hammer.")
TopMMANews is the first outlet to report that Ed Ratcliff has been forced to withdraw from his scheduled Sunday night WEC 49 showdown with Chris Horodecki in Edmonton, Alberta, for undisclosed reasons, although he is rumored to be injured, leaving the promotion scrambling to find a last-minute replacement for the former IFL standout.
Ratcliff confirmed the news on his Facebook page:

"I wanna say sorry to all the fans, family, and friends for having to pull out on such late notice. Even more importantly I wanna appologise to Chris Horodecki for going thru all of that hard work and not getting the final release u deserve. I wish u the best. Sorry everyone.!!!!!!"

Although no replacement has been named for Ratcliff, there are several Canadian fighters who could fill in if needed, including Zahabi MMA product Mike Ricci, Jordan Mein and Martin Grandmont.
The event will be the first Zuffa-produced show held in Alberta. Losing a Canadian draw like Horodecki from the card likely won't sit well with the partisan crowd, but probably won't be a deal breaker for fans who are undecided whether or not to attend, considering the co-main event will feature a pair of Canucks in London, Ontarian Mark Hominick and Montreal, Quebec native Yves Jabouin as well as Brazilian transplant Wagnney Fabiano who lives in Toronto.
———-
WEC 49
Sunday June 20, 2010
Rexall Place
Edmonton, Alberta, Canada
Fight Card:
Versus Televised Bouts:
Jamie Varner vs. Kamal Shalorus
Mark Hominick vs. Yves Jabouin
Josh Grispi vs. LC Davis
Chris Horodecki vs. Ed Ratcliff
Eddie Wineland vs. WIll Campuzano
Preliminary Bouts:
Karen Darabedyan vs. Will Kerr
Wagnney Fabiano vs. Frank Gomez
Erik Koch vs. Bendy Casimir
Raphael Assuncao vs. Diego Nunes
Rafael Rebello vs. Chris Cariaso
Renan Barao vs. Anthony Leone
*UPDATE* WEC President Reed Harris announced tonight that Ratcliff will be replaced by 6-0 Roufusport product Danny "Danny Boy" Downes, a muay thai fighter with 5 TKO wins. This could be a barnburner like the Leonard Garcia-Korean Zombie fight at WEC 48.