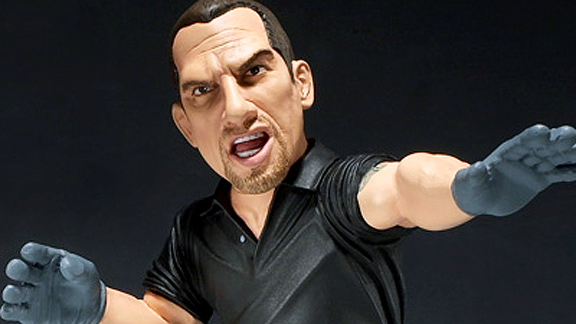 (Morton Downey Jr. is not impressed with these action figures.)
Keeping with its tradition of producing head-scratchingly non-resembling miniature renditions of MMA fighters and personalities, Round 5 announced today the release of its sixth series of action figures.
Instead of posting a photo of the latest wave of figures, who, besides their hairstyles and accessories, really don't capture the likenesses of the people they're based on (at all), we figured we'd let you decide who they *really* look like.
Give us your best guesses.

As far as we can discern, their catalogue includes: Ryan Gosling, Dexter, Gabriel Gonzaga, John Lithgow, Roger Lodge, Samuel Jackson from Black Snake Moan, Rick Dees, Marlon Brando, Kirby Puckett, Meatloaf, Miguel Torres, Brett Favre, Ray-J, Paulie from Rocky, Gabriel Gonzaga, Eddie Van Halen (or Jeff Cain), Chris Klein, Wesley "Cabbage" Correira, the dude from Avatar, Gabriel Gonzaga and a blow-up doll…