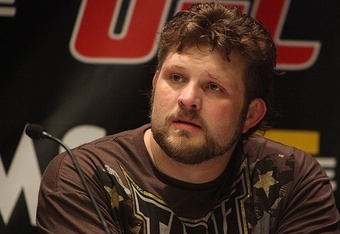 (Besides his go-for-broke style of fighting, Big Country's penchant for telling it like it is has made him a fan favorite.)
Roy Nelson stopped by The Bum Rush Radio Show recently and as always, the outspoken UFC heavyweight contender didn't pull any punches when discussing the topics we broached.
When asked about his recently publicized contract dispute with Roy Jones Junior's Square Ring Promotions, "Big Country" says the frivolous lawsuit, which came about eight months ago is old news and that reports that he didn't have his manager or lawyer read through the contract are false. He says that he was given the impression that SRP was no longer promoting MMA events and that his obligation to the organization (who only promoted two events and at time of writing has no other cards planned) was completed.
"It's pretty much eight-month-old news. There's nothing really new and exciting. It's just a lot of legal processes. In the United States anybody can sue anybody. This has been going on for months and if this is a new story that people are writing about now, somebody hasn't done their homework," Nelson says. "From my understanding, there was no further obligation with them. We were trying to get some fights with them and we helped them out a bit [with setting up some matches] because they were doing some smaller shows and they wanted to get into the MMA business. Now, apparently they aren't getting into the MMA business."


He says that regardless of the outcome of the case, he's confident that he will be fighting in 2011, and if all goes well he will earn a the title shot he has been coveting since he signed on to compete on The Ultimate Fighter Season 10.
"My goal is still the same from after I had knee surgery and that was that 2011 was the year that I was going to get the chance to fight for the belt. I want to rattle off a couple wins. I'd like to fight Brock [Lesnar] first and get Big Nog' in the sumer and fight for the belt some time before the end of the year," Nelson explains. "That would be the perfect little scenario. I don't care who they give me. They can give me all the way from a [Sean] McCorkle to a Frank Mir. It doesn't matter. I'd take on any of the other 28 guys as well."
If the lawsuit keeps him out of action longer than it takes for him to completely rehabilitate his repaired knee, Nelson says he would love to keep busy working as one of the coaches on TUF 13 opposite Lesnar. Although he admits that the former WWE star's ironic reluctance to be on camera would be to his advantage.
"Brock would be the perfect [opposing coach] because all you'd get to hear and see would be me," he says matter-of-factly.
As far as fighters like Lesnar who shy away from media obligations, Nelson says that of the guys who don't like doing interviews, there's usually an equal split of fighters who aren't comfortable in the limelight and guys who get sick of the unprofessionalism they encounter from the glut of members of the "so-called MMA media."
"I think doing media is important. Most fighters don't realize their self-worth. Most of them are like strippers with bad self esteem. They just need somebody to pick them up and they need somebody else to help promote them. Usually the people who are asking the questions haven't done their homework or they just pull stuff out of their butts. I hate to say it, but in our business of MMA there aren't many great reporters. They don't understand that if you're going to be a reporter, you kind of have a legal obligation to [make sure what you're reporting is correct]. You don't see the New York Post or the LA Times or any of those [outlets] putting some gibberish out there because they know they're going to get sued if they do," explains Nelson. "There would be big lawsuits because, [like I said before] anybody in the United States can just sue anybody. [MMA reporting] is still kind of like the Old West. They're kind of shooting from the hip and that's just the way it is. Technically the fighters don't have to do anything with the press. That's just a way to communicate with the fans, but since we have things like Twitter now, we don't really need the press. We can communicate directly with our fans. Really, the press is for hyping up fights and trying to get whatever message you're trying to get out there, but with the Internet Age and things like Twitter, Facebook and your own website, you can do it all yourself."
According to the TUF 10 winner and former IFL heavyweight champ who has been fighting for close to seven years, there are decent reporters in the sport, but the "gotcha" journalists who spin a quote or take it out of context give the profession a bad name.
"Quotes can definitely be taken out of context through the editing. If you said, 'It's black" and they cut it off there and you really said, 'It's black and white,' and they don't use the whole quote because they can't talk to me personally and they take bits and pieces of what I've said from other websites to suit the story they're writing, then it's a problem," he says. "There are a whole bunch of manipulations that go on."