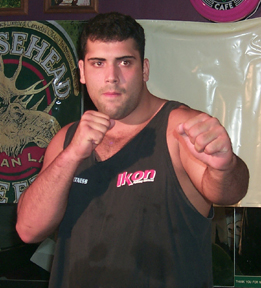 One thing we weren't aware of when we were posting that story about ex-UFC champ Ricco Rodriguez auctioning off his championship belt is that Rodriguez will reportedly be appearing in a new VH1 series called Celebrity Rehab, in which Loveline host and addiction medicine specialist Dr. Drew Pinsky guides a group of down-and-out ex-celebrities (and the term is being used very loosely here, even for VH1′s standards) through an arduous recovery process. Ricco Rodriguez, who was suspended by the CSAC in 2006 for testing positive for cocaine and marijuana following a local MMA event in Bakersfield, will be appearing alongside actor Daniel Baldwin, former pro wrestler Joanie "Chyna" Lauer, porn star and one-time gubernatorial candidate Mary Carey, actress and Flavor Flav-paramour Brigitte Nielsen, and five other faded pop culture figures; the show debuts on January 10th.
So, first off, we'd like to take back what we said about Rodriguez's situation not being as sad as when Corey Haim tried to auction off his teeth and hair; this is possibly sadder. Haim can get a wig and dentures to replace his hair and teeth (and hopefully he has by now), but Rodriguez will never get another championship belt. Plus, the fact that he's an addict sheds some doubt on this claim that he'll be using the money to open up a new MMA school. If you've ever watched Intervention (or, you know, dealt with addicts in real life), you'd know that any monetary windfalls usually wind up feeding the monkey, no matter how many promises are made otherwise.
We'd also like to say that Dr. Drew is a God among men and we cannot fucking wait for this show to start. It's everything that Celebrity Apprentice should be!
UPDATE: With four days left in the auction, there are still no bids for Rodriguez's belt.