(Oh yeah. Get ready for a whole lot of this.)
By now, you should have finally made it through our gargantuan 2012 Potato Awards feature, which recapped the biggest and baddest MMA news stories of last year, as viewed through the twisted mirrors of the CagePotato Funhouse. This week we decided to throw together another year-in-review feature, in which the members of the CP staff selected their favorite articles that they wrote for the site in 2012. Check out our picks below, click the headlines to revisit our work, and if we left out any of your own personal faves, holler at us in the comments section.
****
BG says: In five years of running CagePotato, this is probably the article I'm most proud of. Part of that is simply because of the massive effort it required — by the time the "50 Worst" reached its final form, I had been writing and researching it, off and on, for about six months. I liked the idea of doing a shadow-history of the UFC, giving readers a guided tour of how the Octagon's forgotten losers and punching-bags did so much to build the sport's mythology in their own right, by acting as fodder for the legends. I believe it's the most definitive record of UFC failure, in all its various forms, ever committed to the Internet.
BG says: Well, you can't argue with success. Since its publication in August, this article has generated over 2 million pageviews, making it by far the most popular CagePotato article of all time, in terms of raw numbers. And let's be honest: Spending an afternoon searching for nude photos of Jade Bryce isn't exactly a tough day at the office.
BG says: I took a lot of heat for this piece, for everything from the title ("disrespectful!") to the concept itself ("why pay tribute to this asshole?!"), but I found it really interesting to sort through all the available information on Levens, then shape it into a single narrative, spanning his rough childhood, to his early successes, to the setbacks that ultimately derailed his life. It's a terrible story, but an undeniably compelling one.
Jared says: *begins self-wanking gesture* This article perfectly sums up what I love to do when given a less-than-exciting topic to write about: crank up the absurdity to 11 and run with it until there are approximately three people left when the dust has settled. Oh yeah, and throw in a Scanners gif/Youtube clip for good measure. And of course, not one person in the comments section even made note of this absurdity, instead choosing to launch into an argument about whether or not dipsetkilla is gay (BULL MOUNTAIN, DON'T GO CHANGIN!). From what I ascertained, if he is, then so is your mother. Because he totally banged your mother.
Jared says: This article was one of my favorites simply because of how unexpectedly candid Josh Burkman was in our interview. Heading into it, I hadn't interviewed anyone since Rampage Jackson, and based on that, was expecting another forced, awkward series of questions with a fighter who couldn't care less about the Tater Nation's high expectations regarding an interview. Thankfully, Burkman not only was more than willing to answer my questions in vivid detail, but even retold the classic Phil Baroni/Tito Ortiz nightclub brawl story for old time's sake. Being that he was such a cool dude, I felt compelled to treat the interview with a little more care than our standard cryptic format, and it came together really nice.
Jared says: If you were to ask most of your fellow Taters what their favorite Danga article was in 2012, they'd likely throw a beer in your face and scuff your sneakers before throwing you out of the dive bar you found yourself in, assuming of course that you were me, for who else would sing my praises? That being said, my thousand word diatribe aimed at Jon Jones in the fallout of UFC 151 was probably the only article I've received outright praise for from you Taters. It was a bitter, hate-fueled, kneejerk reaction of an article if I've ever written one, which is probably why you guys loved it so much. Because believe it or not, it really does make my day when you all actually enjoy something I write, even if you have a really, really hard time not expressing that love as the bits of digested corn in the shit-filled taco you label constructive criticism.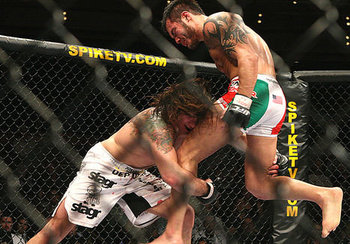 Jared says: When all is said and done, I imagine that the CagePotato Roundtable will probably be the greatest thing I ever contributed to this site (aside from the lengthy, super-secretive project I am currently working on that will both blow your minds and finally melt the ice from your hearts in regards to me as a person, of course). Sure, BG was able to use his limitless resources to reel in everyone from Old Dad to Stephan Bonnar as contributors, and edited all of our entries, and organized them into a readable format week after week, but I'm pretty sure it was my suggestion that got the snowball rolling, dammit! So yeah, hate me all you want, but know that there are three things you can always count on in life: Death, Taxes, and Danga. Because like the heart and spirit of the Potato Nation itself, I will never die. At least that's what my Dad told me when I was a kid.
Seth says: Any chance I get to write about pro-wrestling and MMA without completely stretching the context to make it fit is pretty rad — so yeah, this rundown of the greatest pro-wrestling moves used in MMA was my favorite. The fact that I published it on the day of Raw 1000 makes it even cooler.
Elias says: First off, the ego portion — I love whenever CP does solid original reporting because we don't get enough credit for doing so. Sometimes it's breaking stories and sometimes its just going deeper with exclusive conversations with sources in the fight world that can really bring our visitors inside and give them some useful context and analysis. To that end, I really enjoyed covering Alistair Overeem's saga this past year. What interested me most was not the drama of it all, but rather, the opportunities to look at some previously under-explored but important issues in drug testing (as we also did in covering Nick Diaz's last positive drug test) like Therapeutic Use Exemptions.
Elias says: There's something both awful and incredible about writing a live play-by-play blog of an event that you're really excited about. On the one hand, it can be tough to enjoy simply as a fan because you have to be paying such particular and constant attention to every move you can, while then describing and analyzing it all in text immediately, which is pretty much mutually exclusive to double fisting calzones while shouting at the television, as I like to do on nights off. But the pay-off of Anderson Silva vs. Chael Sonnen II made it worth it all to have to work/watch it.
I happened to be doing this live blog from a popular Chicago karaoke/tropic-themed bar near the city's north lake shore (how I ended up doing that there is a bit longer of a story than we have space for) with a couple hundred people around me. Most of the night I sat silently at the bar, my lap top wired in to the internet, face alternating between up to look at the TV and down to type. But when Anderson hit Sonnen with the knee to the chest, that, in the moment, I was sure was an illegal knee to the face, I shouted out loud. His finish of the fight, the instant replay revealing that his knee was not illegal but rather unbelievably perfectly executed, was the perfect cap to a perfect rivalry. As is the case with all play by play blogs, I just tried not to completely ruin that moment for our readers and capture just a small bit of the excitement that I witnessed.
Elias says: I've been wanting to get into some longer-form narrative writing for some time and Ben Goldstein gave me the chance to do so with the Travel Chronicles series. I got to travel around the continental U.S. a bit this past summer, fighting, training with and interviewing some of the fight world's biggest and most interesting personalities and had the time of my life. Getting to share it with you all as I've been able to do has been challenging and a blast.
And now, the lightning round…
Jason Moles: For me it was the Zuffa sponsor ban on gun, ammo, and hunting companies. Or maybe it was the UFC 151 live-blog.
Nathan Smith: THIS, only because it took forever.
Jim Genia: [Ed. note: Jim didn't submit his picks for this roundup, but I have to give props where props are due. Jim's work on CagePotato — particularly his long-read features on the state of MMA in New York and his experience shadowing an athletic commission inspector, as well as his obit on Jeff Blatnick — singlehandedly raised the quality level on CagePotato last year, and I can't wait to see what he'll come up with in 2013.]