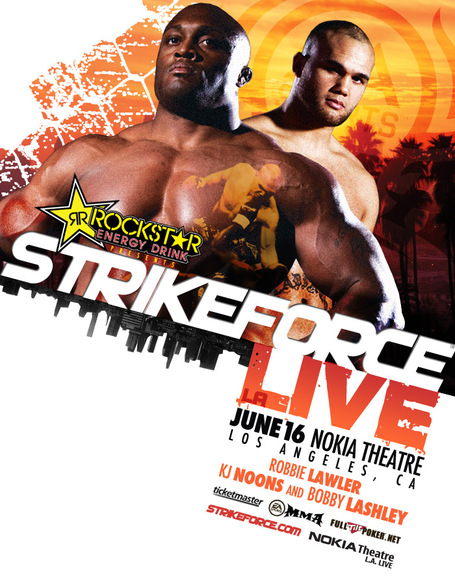 (Besides sporadically training MMA, Bobby Lashley has been saying his prayers and taking his vitamins and the results have been staggering.)
Strikeforce held a media conference call today with Andrei Arlovski, Antonio "Big Foot" Silva, Roger Gracie and Kevin Randleman to hype their upcoming
Saturday May 15 "Heavy Artillery" event in St. Louis.


Some notable tidbits from the call:
- A catch weight bout between Robbie Lawler and Renato "Babalu" Sobral will take place at the June 16 show.
- Andrei Arlovski has split time training in Albuquerque with Greg Jackson and at American Kickboxing Academy training with "Crazy" Bob Cook and Javier Mendes.
- At AKA Arlovski spent considerable time working with UFC heavyweight contender Cain Velasquez.
- After the loss to Brett Rogers, Andrei began seeing a sports psychologist.
-Norifumi "Kid" Yamamoto not be on the May 15 card as will likely be fighting for DREAM on May 29 to help fill in the hole in their card left by the promotion cancelling the light heavyweight grand prix from the show.
- Strikeforce CEO Scott Coker expects Jason Miller (who he said after re-watching tapes of the fracas should shoulder the lion's share of the blame for the incident) to receive a suspension for his part in the post fight melee that took place April 17 on CBS.
- Roger Gracie feels "pretty complete and safe" fighting in MMA. He says he has pretty good hands from his extensive boxing training, but no matter how much he trains his stand-up, it will never match his ground prowess.
- Roger has spent a great deal of time in New York training at his cousin Renzo's gym for the fight with Randleman.
- If he gets past Randleman, a possible opponent down the road for Gracie could be Rafael "Feijao" Cavalcante.
- Kevin Randleman has gone completely batty. When asked by a reporter what his longtime Team Hammer House training partner and friend Mark Coleman's next move in MMA is, Randleman ignored the question and explained who he was training with in Vegas and said he didn't have anyone in the city who could match the level of BJJ of Roger Gracie. When pressed again about his relationship with Coleman he said, "Sometimes in life, the student needs to branch out," before veering away from the topic again to talk about jiu-jitsu.
The audio of the call can be found here.