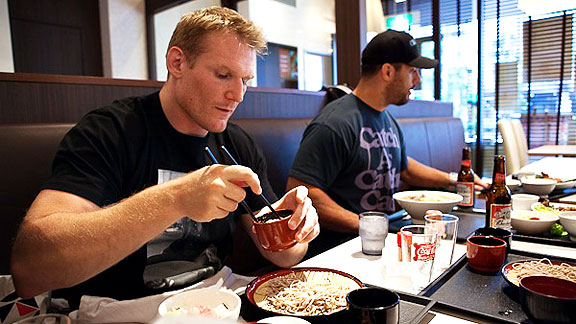 ("Yeah, I'll take the soki soba, an Asahi, and 25mg of the…uh…you know…the usual." Photo courtesy of ESPN.)
We know what you're thinking: Strikeforce's 2011 Heavyweight Tournament isn't nearly chaotic enough as it is, and it would be great if some of the fights were held in different countries like Canada and Japan. Basically, more moving parts is what they need, right? Scott Coker totally agrees with you. The Strikeforce CEO recently appeared on MMAJunkie.com Radio where he revealed that newly open-for-business Ontario, Canada, and Tokyo, Japan are both being considered as host sites for future fights in the HWGP.
"This is a world grand-prix tournament, which means we might not just be in the United States," Coker said. "This thing could be traveling."


Oh man. If Strikeforce wants to leave the country for the first time in its promotional existence and roll up to Ontario, good on 'em, but let's not pretend that holding a show in Japan would serve any benefit for this tournament except one — Josh Barnett would be able to compete there, even if the CSAC decides to blackball him next month for playing hard-to-get. But hell, what is Strikeforce going to do if Barnett battles his way to the finals? Multiple events in Japan, just for Josh? At that point, it's easier to just swap in Shane Del Rosario and say Barnett had to withdraw due to a knee injury.
That being said, it's obvious that holding heavyweight tournament events outside of the U.S. is simply a contingency plan being considered if domestic events become untenable. If Barnett gets his license re-instated next month, I'd be shocked if Coker mentions this globetrotting grand-prix business ever again. Cross your fingers.