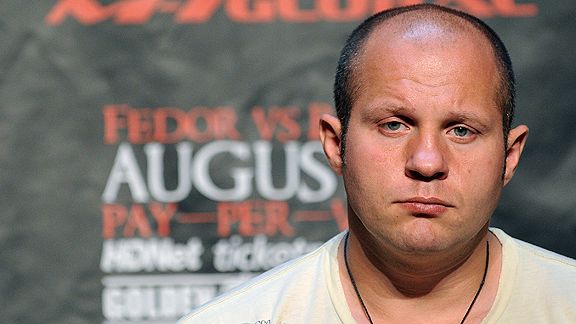 ("I am ecstatic about new contract. I have not stopped smiling all week.")
Strikeforce moved one step closer this week to ensuring that its heavyweight tournament doesn't implode and that Fedor Emelianenko *could* eventually fight heavyweight champion Alistair Overeem.
According to a report by MMAFighting.com, "The Last Emperor" has signed a contract extension with the San Jose-based organization that will see the Russian fighter compete in the planned 2011 heavyweight tournament. Although terms of the agreement were not released, as per Strikeforce policy, the report indicates that sources close to the situation said that the deal is for four fights. The new deal will commence with a February 12 first round tournament bout with Antonio "Bigfoot" Silva in New Jersey.
The question is whether or not it's too little too late for Strikeforce to put together the most anticipated tilt in its promotional history between Emelianenko and Overeem.


It remains to be seen whether or not Overeem will re-sign with the promotion after completing his last two contracted bouts on his current deal, which could explain why he isn't being included in the competition. Strikeforce has yet to name the prize for the three-round tournament, but it seems likely that they are preparing for the likely departure of "The Reem," who has stated that he would like to fight in the UFC some day so he can take a run at the promotion's heavyweight strap.
At least we may still get to see Fedor fight Josh Barnett if CSAC stops using Chael Sonnen's dirty specimen cups to test The Babyfaced Assassin's urine.
*UPDATE* MMAFighting reports that a first round bout between Overeem and Fabricio Werdum has been added to the tournament and that Sergei Kharitonov will likely sub in for Barnett against Arlovski February 12.
It seems that Scott Coker and company know that the end may be near for their love affair with "The Demolition Man," and they aren't worried about eliminating one of the tournament favorites early. The move could backfire if Overeem beats Werdum and bows out of the tournament after winning his second round bout and fulfills his contract obligations.