4 Jun 2009 11:52:46 AM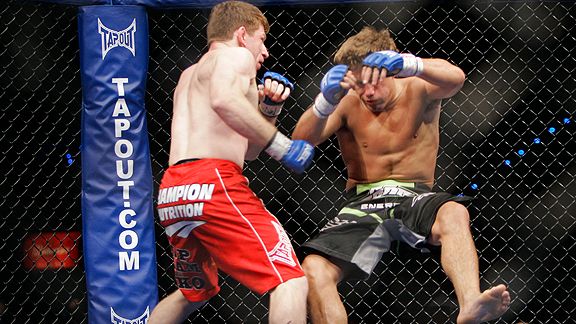 (The fact that Faber got KTFO'd by Brown last time just means he's due for a win, right? Photo courtesy of ESPN.)
If Saturday's Strikeforce matchups seem a little too unpredictable for you to throw some money down, may we suggest taking your mortgage payment disposable entertainment income and wagering it on Sunday's WEC event instead? There might be some "sure things" to be found here — and when you bet on smaller fighters, they appreciate it more. Check out these odds from our new friends at MMA Moneyline and let's see if we can't get daddy his proverbial new pair of shoes:
Urijah Faber (-115) vs. Mike Brown (+120)
Jose Aldo (-360) vs. Cub Swanson (+300)
Donald Cerrone (-400) vs. James Krause (+450)
Josh Grispi (-150) vs. Jens Pulver (+130)
Manny Gamburyan (-225) vs. John Franchi (+200)
Rafael Rebello (-110) vs. Kyle Dietz (-110)
Mike Campbell (-275) vs Anthony Pettis (+260)
Scott Jorgensen (-145) vs. Antonio Banuelos (+135)
Frank Gomez (-140) vs. Noah Thomas (+135)
Seth Dikun (-115) vs. Rolando Perez (-110)

Okay, you want our advice?
Read More
DIGG THIS