30 Mar 2008 16:50:44 PM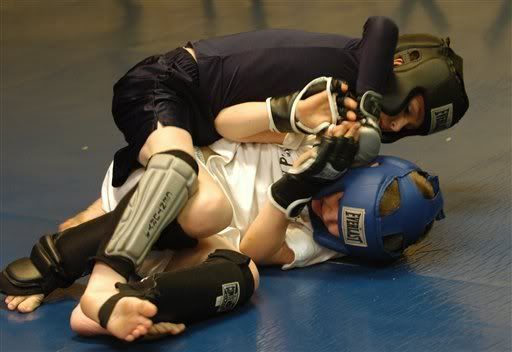 (Making dad proud.)
CBS' Saturday edition of "The Early Show" had a piece about parents allowing their kids to participate in MMA. And by "participate", I mean beat the shit out of one another. We're having trouble with the embed, but 5oz. of Pain has the video and a rundown. Basically, the piece went like this:
The video shows a bunch of cagefighting kids in Mizzou taking it to each other. Then Dana White comes on for his two cents — and it makes me smile that he's a guest on a CBS show while CBS has been pumping their upcoming EliteXC broadcast. Dana does his normal 'people just don't understand MMA' and that it's basically no different than the kids participating in karate and kung fu. I agree, except — as Sam Caplan points out — for that little no head contact in karate sparring and no submissions. Some may think kids are vile creatures, but those aren't the people putting their kids in an MMA match either. The ones doing it are the retard ex-high school jocks who can barely hold down his Burger King assistant manager job, pushing his washed-up dream onto his boney 10-year-old out of "love."
The Huffington Post also recently had an article about kids in "ultimate fighting" as they put it. Again, Missouri comes up as the state allowing this, as well as Oklahoma. My favorite is this quote from one of the pro-kids in MMA dads:
"When they get out of the cage, they go back and play video games together. It doesn't matter who won and who lost. They're still little buddies."
That'll work until puberty hits and fills their bodies with enough testosterone to fill a wading pool. That little buddy thing will change real fast. Some have expressed putting an age limit on MMA and their worry that if more kids are actively participating they'll end up speaking like Rampage Jackson. I'd say no age limit and no sanctioning body to waste their time on tyke fights. Douche-bag parents should just have some common fucking sense. If you want your 7-year-old taking shots in the face, then you, Sir, are a classy human being indeed.
It's also not the first time "The Early Show" has tackled combat sports. Watch below and believe for yourself.

Read More
DIGG THIS