24 Jun 2010 07:55:58 AM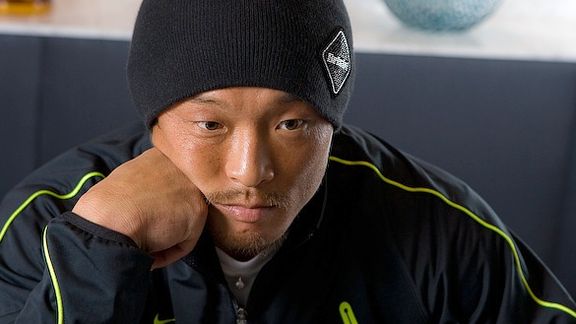 (Akiyama's next fight just went from "Beauty and the Beast" to "Beauty and the Average-Looking Guy." *You* try to sell that. / Photo courtesy of ESPN.)
If you're heartbroken that Wanderlei Silva won't be competing at UFC 116 next Saturday due to injury, well, Yoshihiro Akiyama feels your pain. In fact, he's so unimpressed by the idea of Chris Leben coming in as a replacement that he doesn't even want to fight anymore. From daum.net via BloodyElbow:
"I am not pleased with the change. There are just ten days left until the contest for me to determine [Chris Leben's] threats and the time is insufficient to establish a tailored gameplan. Leben is also not as high-profile as [Wanderlei] Silva and that does not help me."
"If there is to be a replacement I was hoping for a big name. I spent one year preparing hard for this fight and this news has come as a big disappointment, my motivation has waned. I do not know yet what will happen…In the worst case, I will not take part in the [UFC 116] event. We are working hard to resolve this issue."

Read More
DIGG THIS