11 Apr 2012 13:24:49 PM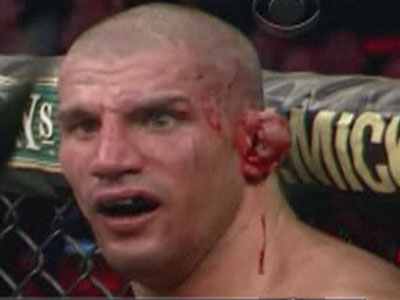 (As with the Mona Lisa's eyes, Thompson's ear seems to just follow you around the room, doesn't it?) 
Indian upstart promotion Super Fight League recently announced the pairing of James Thompson and former WWE star Bobby Lashley as the main event of its third card, which will also feature Trevor Prangley, Doug Marshall, and Zelg Galesic in action.
This is the point where we stop discussing the matchups at hand and get to the news you really need to know: Super Fight League is crashing and burning like nothing we've ever seen before. Josh Barnett couldn't melt a plastic cup with his urine fast enough to destroy SFL, which is beginning to look like it will be but a distant memory by the end of the fiscal year. Despite the fact that viewership is free to anyone with a computer, internet access, and the ability to spell Youtube, SFL already seems to be on wobblier legs than River Phoenix outside The Viper Room (too soon?).
And it's pretty clear why.
Heading into their first event, the India-based promotion showcased an emphasis on flare, throwing fancy promos and even their own theme song into the mix in an effort to spur interest in a sport that their country had yet to build the smallest of followings for. This was their first problem, a lack of awareness. Where Asian-based promotion OneFC has thrived thanks to both collaborative efforts with local promotions and a strong, preexisting fan base in the area they chose to promote within, Super Fight League's co-chairmen, Raj Kundra and Sanjay Dutt, opted to rely on a combination of Bollywood celebrities and music industry execs to help promote a new sport that they themselves weren't truly familiar with. In fact, many of the celebrities in attendance, and most of the 300,000 India-based Youtube viewers who managed to make the first card a slight success, where under the impression that MMA, and specifically SFL, consisted of over-the-top, WWE style antics and entertainment, largely due to how the promotion chose to well…promote themselves.
Read More
DIGG THIS