10 Feb 2012 12:36:23 PM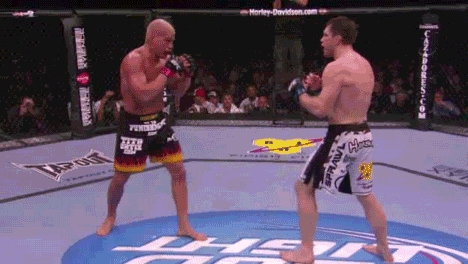 (Hey Tito, do you mind taking a look at this fungus I've got growing on my foot? I figured if anyone could spot a bizarre infection, it would be you.) 
It's looking like Tito Ortiz will be getting his wish to go out on a hotly contested decision like he's always wanted. Though the event or location has yet to be determined, Lorenzo Fertitta announced to the Twittersphere last night that the rubber match between Ortiz and Forrest Griffin will in fact be happening, and, just like Ortiz requested, could transpire on Fourth of July weekend.
After saving his Zuffa career by submitting Ryan Bader at UFC 132, Ortiz has dropped two straight to Rashad Evans and Antonio Rogerio Nogueria, both coming by way of TKO. Griffin is also coming off a first round TKO loss, which he suffered in his rematch with fellow former Light Heavyweight champ Mauricio Rua at UFC 134.
Ortiz and Griffin first met way back at UFC 59 in the spring of 2006. At the time, Griffin was on a four fight win streak including his TUF 1 Finale victory over Stephan Bonnar. Ortiz had scored two straight after being knocked out by Chuck Liddell at UFC 47, and would follow his split decision victory over Griffin by beating the piss out of poor Ken Shamrock twice in a row. Their second meeting, which went down at UFC 106, saw Griffin emerge victorious by an equally controversial split decision.
Speaking of trilogies…
Read More
DIGG THIS