2 Apr 2008 22:33:07 PM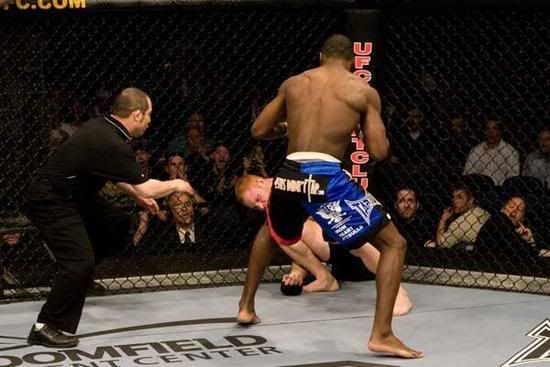 (Speer's turning to jelly wasn't good enough for Johnson to bank $20,000.)
Ken-Flo and J-Lau pulled $20k each for "Fight 'o da' Night" bonuses from last night's UFC Fight Night 13, and it was well-deserved. In case you just woke up, Florian beat Lauzon with his "mount". Been there, done that. As for the other money-pluses, not all were as dead-on.
James Irvin tied the UFC record with the fastest KO in the organization's history and grabbed a fistful of dough ($20k) for "Knockout of the Night". Sure, Irvin did it in 8 seconds, but it was a TKO — not to mention that the victim of the quick grounding (Houston Alexander) was able to profusely protest crazy Steve Mazzagatti's stoppage of the fight. This would deserve the KO bonus if Anthony Johnson hadn't fought on the same card. "Rumble" Johnson simply got ripped off. His opponent, Tommy Speer, was KTFO and couldn't move from his collapsed position against the cage. How does this not get "Knockout of the Night"? If Houston Alexander can jump up and bitch to the ref about the stoppage, there is no way in hell James Irvin should be $20k richer.
Mazzagatti is quickly rising in my "People I Hate List" — and yes, I keep such a list, right next to my collection of Good Housekeeping back issues. Stopping that fight was just retarded. And a strong case can be made for him shooting his stoppage wad in the Karo Parisyan fight, too. Anyway, I'm thinking Mazz the Mustache is either on goofballs so he wants love not war, or he had a side deal with J. Irvin. I'm certainly not one for conspiracies, but this is some bullshit.
The "Submission of the Night" kick went to Nate Diaz and that's more than cool — especially since we suggested it. He had a solid comeback win over Kurt Pellegrino after taking a good thrashing, and his triangle choke in the second round wrapped up the $20k bonus in legendary fashion.
What do you say to that, Mazzagatti?
(Props MMAJunkie)
Read More
DIGG THIS