9 Oct 2009 10:40:00 AM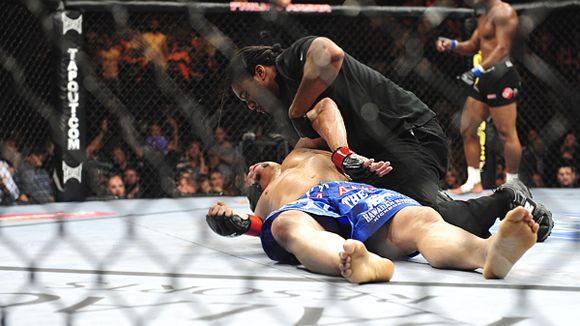 Fighting for a living is a lot like teasing a really mean dog: you can't do it forever without something bad happening to you. Even the great ones get to a point where their drive becomes sluggish and their bellies are too full for them to stay hungry, and that's usually when a particularly bad beating takes what remaining fire they have and douses it with the fury of a God pissing on your dreams. It doesn't necessarily mean they'll quit right then, even if they should, but it does mean that they'll never be the same again. Here now, in chronological order, are the most notorious breaking points in MMA history.
IGOR ZINOVIEV vs. FRANK SHAMROCK at UFC 16, 3/13/98

It's hard to say that Igor Zinoviev was really on his way to being a legend of the sport, because he got stopped almost before he really got started. The former Soviet Army commando was one of the first fighters in the early days of MMA to beat a Brazilian Jiu-Jitsu black belt when he TKO'd Mario Sperry, and he took out Enson Inoue the next year. All this came after years of fighting underground brawls in Brooklyn warehouses following the fall of the Soviet Union, so his toughness was never in question.
When he joined the UFC the future was, as they say, wide open. Then he came up against Frank Shamrock, who wasted no time in scooping him up and slamming him down so viciously that it shattered his collarbone and knocked him out cold. It was Zinoviev's first career loss, and he would never fight again after that. We're not saying the devastating finish served as the catalyst for Shamrock's out of control ego over the next 10+ years, but we're not saying it helped, either.
Read More
DIGG THIS