21 Sep 2012 09:05:02 AM

("Tonight……you.")
From a writer's standpoint, there are a couple ways to approach a fight video as clownshit crazy as the one you are about to witness. The first is to provide a play-by-play breakdown of the action in a noble (but ultimately futile) attempt to try and make sense of the lunacy you just witnessed. The other method involves coming to the realization that your words are indeed ultimately futile and that the fight video should simply be digested as is.
It's safe to say that when this happens before the fight even begins, you must follow the latter method.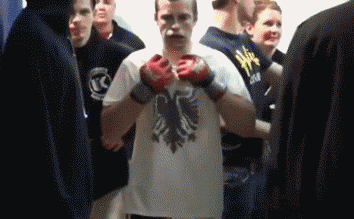 Full video after the jump. Trust us, you *need* to see this. 
Read More
DIGG THIS