4 Apr 2008 20:30:23 PM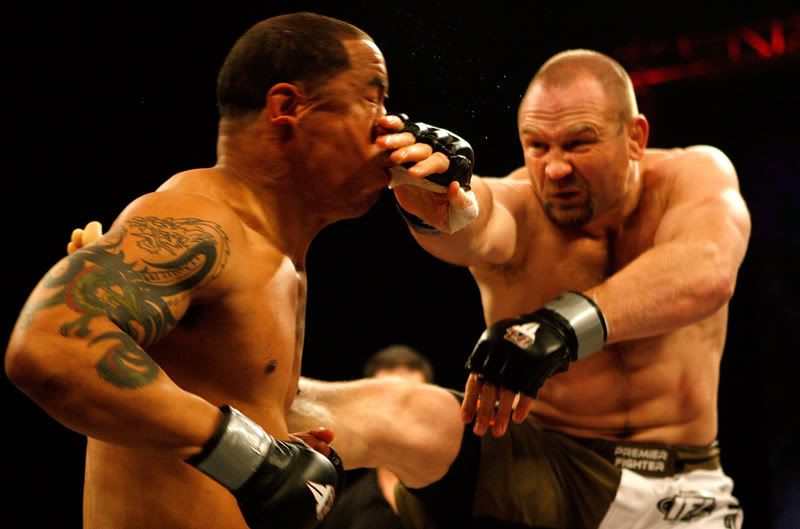 ("The Janitor" cleaned "The Suit" at the IFL's Jersey joint.)
Three titles were on the line at last night's IFL event in East Rutherford, New Jersey and Vladimir "The Janitor" Matyushenko, Wagnney Fabiano, and Jay "The Thorobred" Hieron all successfully defended their titles in front of 5,131 fans at the Izod Center. Matyushenko seemed to be in for quite a fight when his opponent, local boy Jamal "The Suit" Patterson, had a strong showing in the opening frame. The second was a different story, however, and the champ ended the fight with a series of blows for a TKO win with 30 seconds left in the round to raise his record to 21-3.
In Fabiano's fight, the champion KO'd Seattle fighter Shad Lierley just 37 ticks into the fight, which was somewhat unexpected due to Fabiano's love for taking it to the ground early. The other championship fight also ended in the first, with Jay Hieron dominating Mark Miller. The fighter picked up a TKO after a vicious GnP of his Chicago challenger.
The camp match-ups pitted Miletich Fighting Systems versus American Top Team and Midwest Combat versus Renzo Gracie Academy. Featherweight LC Davis of KC, got a win for Miletich when he KO'd Rafael Dias in the Brazilian's second fight for the IFL. The fight was an exciting one throughout and Davis just managed to get the KO with seconds left in the bout. ATT got a win when welterweight Emyr Bussade got a second-round kneebar sub over Jesse Lennox. The deciding fight ended up being a non-decisive one when it was ruled a no contest. It was a light heavy match-up featuring two Pennsylvania fighters, Carmelo Marrero and Mike Ciesnolevicz. The no contest came about when Marrero received a cut on his head from an inadvertent head-butt and the gushing wouldn't stop. Where's "Stitch" when you need him?
Read More
DIGG THIS