31 Dec 2008 09:05:32 AM
#5: Affliction: Banned, 7/19/08


(Photo courtesy of Sherdog)
Sure, the pacing was a little shaky, and the picture quality for the pay-per-view broadcast was kind of dark, and apparently some of you don't think that Megadeth's Rust in Peace is one of the most kickass records ever released. But you shouldn't look a gift horse in the mouth. Affliction's debut MMA show gave us a supernova of heavyweight star power, featuring Fedor Emelianenko's 36-second destruction of Tim Sylvia, Andrei Arlovski's beatdown of Ben Rothwell, and Josh Barnett's redemptive KO of Pedro Rizzo; elsewhere on the card, we got to see Matt Lindland, Babalu Sobral, Vitor Belfort and Antonio Rogerio Nogueira in action. The organization has since turned into a bit of a shit-show, but with Banned, they gave us nearly everything we could have hoped for.
#4: UFC 87: Seek and Destroy, 8/9/08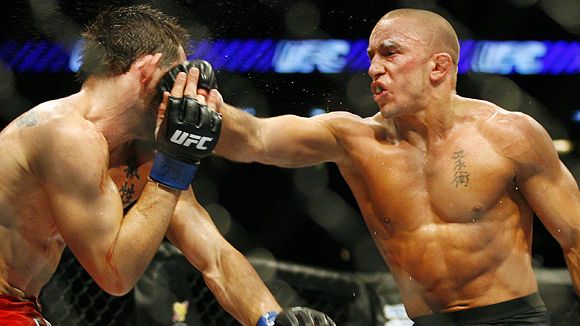 (Photo courtesy of ESPN)
The UFC's visit to Minneapolis proved the following…
— Brock Lesnar is an absolute beast. His takedowns can't be stopped, and his punches tend to break facial bones. He will mock you after he beats you.
— Kenny Florian is a fantastic fighter, and worthy of a title shot; Roger Huerta maybe had a little more hype than substance.
— Demian Maia is one of the most talented submission specialists in MMA, in any organization, in any weight class. His choke-out of Jason MacDonald gave him his third-consecutive Submission of the Night bonus.
— Ben Saunders might actually be a contender one day.
— Jon Jones is athletic and explosive. I'm sorry, but the clichés are true sometimes.
— Jon Fitch is one tough son-of-a-bitch.
— If you're fighting Georges St. Pierre, tough ain't enough.
Read More
DIGG THIS