3 Apr 2008 00:11:23 AM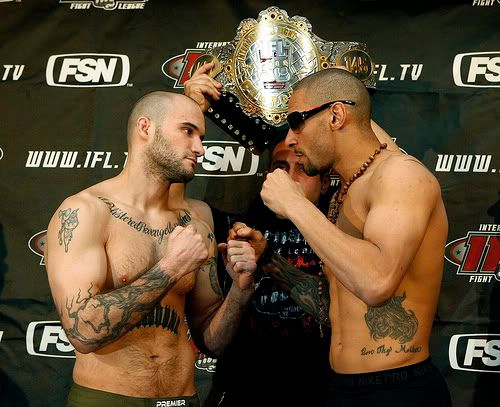 (Mark Miller (L) will attempt to knock Jay Hieron's shades off.)
Quiet out on the MMA plains this evening, but here are a couple of news pieces to check out:
— The official weigh-in for tomorrow night's IFL show in Jersey came and went today, and all went smooth. The show kicks off at 7:30 pm (ET) and goes live on HDNet at 8:30 pm (ET).
Here are the weigh-in results:
Title Fights
Jay Hieron (170) vs. Mark Miller (170.4)
Wagnney Fabiano (145.4) vs. Shad Lierley (145.8)
Vladimir Matyushenko (205.4) vs. Jamal Patterson (205.6)
Non-Title and Team Fights
Delson Heleno (170.8) vs. Brad Blackburn (171)
Jim Miller (155) vs. Bart Palaszewski (155.5)
Nate Lamotte (155.8) vs. Chris Horodecki (154.6)
Mike Ciesnolevicz (206) vs. Carmelo Marrero (205.8)
Emyr Bussade (170) vs. Jesse Lennox (170)
Rafael Dias (145.6) vs. L.C. Davis (145.6)
Alex Schoenauer (204) vs. Brendan Barrett (205.5)
We would post video of the weigh-ins, but it was just too intense for a Thursday.
— Keith Kizer and his NSAC boys weren't able to bust any of the fighters from WEC 33. Fighters were tested for the normal perf-enhancing drugs and those of abuse. Brian Stann, Doug Marshall, Logan Clark, Alex Serdyukov, Richard Crunkilton, Chael Sonnen, Bryan Baker, Steve Cantwell, and Marcus Hicks were given a pass for their piss. Kizer said that the state of Nevada has had "no positive tests yet this year, although we have tested way more fighters in January through March 2008 than in any other January through March period of years past." Brag, much?
We would post video of the piss — and other — tests, but it's too early on a Thursday for that sort of thing.
Read More
DIGG THIS