20 Jun 2011 11:19:49 AM

(Time sure does fly…)
WEC 49 went down 1 year ago.
Why it matters:
Josh Grispi earned the next shot at WEC featherweight champ Jose Aldo with his win over LC Davis at this show held in Edmonton, Alberta. Because of an injury, Aldo had to pull out of their planned UFC 125 bout. Rather than wait for his shot, Grispi took a fight with Dustin Poirier on the January card and lost via unanimous decision. As a result, another fighter who impressed on the UFC 49 card earned the next shot at Aldo.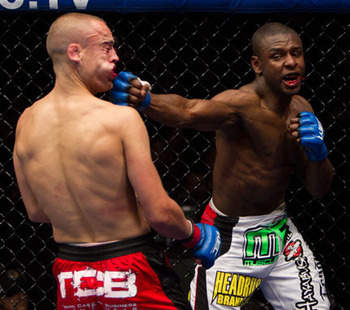 Mark Hominick was en route to a unanimous decision loss to fellow Canadian Yves Jabouin in Edmonton, but pulled out one of the most impressive come from behind wins in WEC history.
Stunned and dropped by a stiff right hand, Hominick weathered the ensuing ground and pound onslaught, swept Jabouin and forced a TKO stoppage via punishment from the mount.
A quick first round TKO win over teammate George Roop in his next bout earned him a shot at Aldo at UFC 129 this past April. Although he couldn't finish the Aldo, Hominick showed the heart of a champion by fighting through a massive, disgusting hematoma to give Aldo the fight of his life and finishing the last round in dominating fashion.
Read More
DIGG THIS