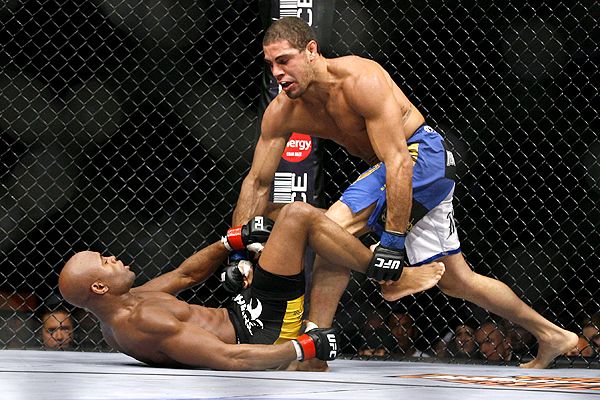 (Where's your muay thai now, playboy?)
For most fighters, losing their next fight after losing a championship bout would mean that they likely would drop down a few slots on the main card.

Matt Serra lost his belt to Georges St-Pierre, then lost to Matt Hughes and got another chance to redeem himself against Frank Trigg. Chuck Liddell lost his belt to Quinton Jackson, then lost to Keith Jardine and was given Wanderlei Silva in his next fight. Evan Tanner lost his belt to Rich Franklin, then lost to David Loiseau and was given Justin Levens as a chance at redemption.
Then there's Thales Leites, who loses via unanimous decision to Anderson Silva and subsequently drops a close split decision to Alessio Sakara and he's given his walking papers and has to fight the unemployment line.


The same fighter whose title-shot UFC president Dana White was vehemently defending to those who questioned how deserving the Brazilian was of it was now not worthy of fighting for the promotion, which seemed odd to say the least considering he was 5-3 in the Octagon with his only other loss (also a decision) coming at the hands of Martin Kampmann.
Since being cut by the UFC, Leites has reeled off three straight wins including a pair over UFC veterans Jesse Taylor and Dean Lister.
Leites is scheduled to compete for the upstart "War on the Mainland" promotion's middleweight title August 14 against Falaniko Vitale and reveals to TATAME that he will likely contend for the Maximum Fighting Championship's 185-pound strap in his next bout with the Canadian promotion.
"MFC wants me to sign a three fights contract, so I'm very excited about fighting on the United States and in Canada," he says. "I believe that my next MFC fight will also be for the belt."
Although he says that his longterm goal is to one day make it back to compete in the Octagon, fighting outside of it has provided him with more perspective and has allowed him to improve inside and outside the cage.
"If I win [against Vitale], it'll be my fourth win since I left UFC. I'm not worried if I'm coming back to [the UFC] or not, because meanwhile good things are happening to me," Leites explains. "[In] the beginning I was upset about it, but [the experience] made me more mature."